Awkward! Phaedra Parks Confronted Over Butt Dial Comments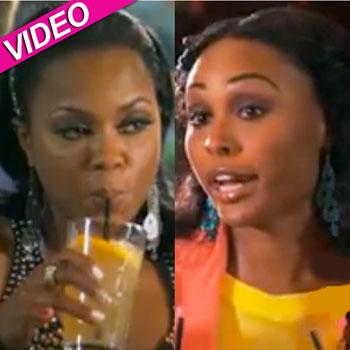 If there were a public service announcement on the dangers of using cell phones, the upcoming episode of The Real Housewives Of Atlanta would be it.
In an embarrassing moment Cynthia Bailey confronts Phaedra Parks about bitchy comments she overheard the lawyer making about her. And RadarOnline.com has a clip of the awkward conversation.
The drama takes place at a restaurant when Bailey gives the socialite a gift for her two-year-old son Ayden, apologizing for not being able to attend the little boy's party. To which Parks replies: "You're always good when it comes to attending events."
Article continues below advertisement
That's when Cynthia asks the mom about comments she overheard Phaedra make after she accidentally "butt dialed" her co-star.
The mom unknowingly left a voicemail message about the model's inability to attend her son's party. In an earlier episode Bailey was filmed listening to Parks say: "Cynthia was like: 'I gotta go out of town'. But I really don't give a f*** about her coming."
Over lunch Bailey sets the stage to catch Parks red-handed. Noting that she doesn't think Phaedra genuinely wants her to attend her parties, she says: "As a matter of fact…somebody actually told me that you… really didn't give a – excuse my spelling – a F * * * – if I came to Ayden's party of not."
Parks immediately denies making the comments, saying: "I don't think you've ever heard me drop the F-bomb so whoever told you that is tripping...I did not say that and I think you know I don't talk like that."
But the self-proclaimed Southern Belle is mortified when Bailey coolly says: "I heard it with my own ears. And I actually have it if you would like to hear it."
Within seconds Parks is suddenly distracted by her bosom, saying: "OK y'all my boob is really itching like something bit me…"