Kim Zolciak Flips Out On Movers On 'Real Housewives Of Atlanta'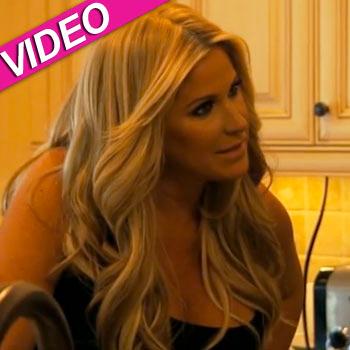 Pregnancy has done nothing to calm Kim Zolciak's fiery temper. The Real Housewives of Atlanta star flips out at the men who are helping her move out of her home in the upcoming episode of the reality TV hit.
And RadarOnline.com has a clip of the blonde dropping a series of F-bombs on the bewildered employees.
The drama begins when Zolciak asks her assistant Sweetie Hughes where the movers are. When Hughes tells the 34-year-old the men are in the basement, the mom-of-four storms down to see what they're doing.
Article continues below advertisement
Zolciak barks at Hughes saying: "Wait a minute there's movers just sitting down there twiddling their f***ing thumbs at $35-an-hour per mover?"
When she realizes the men are not packing her possessions to her high standards the Georgia peach flips out.
She later tells the camera: "I could have f***ing done this myself and just said: 'Put it wherever the f*** you want. I'll figure it out later. I just want to get out…I wanted all my s*** organized so that when I do get my stuff out of a warehouse and I move into a new home I know where the f*** to find it."
When Hughes tries to calm her boss down telling her "it's not proper" to "be yelling, screaming and hollering" she gets a snarky response.
Zolciak tells her: "So you don't think I can say 'f*** you' to someone because it's not proper?
"When I'm writing you a $10,000 check I say: 'F*** you, motherf***er'."
Watch the full drama unfold, The Real Housewives of Atlanta airs on Bravo on Sunday at 9/8c.
RELATED STORIES: