Exclusive
Kim Zolciak Bitter Family Feud: She Is Jealous Of Her Mom Says Her Dad!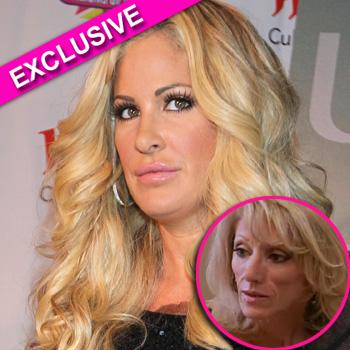 Article continues below advertisement
Kim's father, Joe Zolciak, told RadarOnline.com why he thinks his daughter is not allowing her own mother, Karen Zolciak, to see any of her four children.
"Kim has shown a lot of disrespect to her mother. Her mother is very attractive, she looks fantastic and I think that Kim is jealous of her mother!" Joe said.
"Karen is damn good looking!" he said about his wife. "She is energetic and creative and I am madly in love with the woman but Kim is just jealous."
Joe said that when Kim and her football star husband Kroy Biermann moved into their new home Kim told her mom that she was not allowed to wear a bikini when she was swimming at their house.
"Kim told her mom 'Do not wear a bikini, I don't want you showing off your body to Kroy or anyone else.'"
He said he was shocked at her order.
"Karen has a great body. At 55, she has a body that most 35-year-olds would envy!"
Article continues below advertisement
Bad feelings might be running high in the Zolciak family right now, but despite being in an intense legal battle, Joe still defended his daughter against rumors that Kim was a stripper at the Cheetah Club in Atlanta.
"I don't know what she did at the Cheetah Club," he told RadarOnline.com. "Her outfit was rather skimpy, but what she did was her own business. She would drop her girls off with us to babysit when she went to work and her outfit would be really slinky. Kim told me she was a hostess and I absolutely believed her."
He dismissed the reports to the contrary. "I never thought she was a stripper. I still believe she wasn't a stripper. As a father I blocked it out in my mind."
Joe said what he wants for the family is for he and his wife to be able to see the grandchildren that they haven't seen since Kim's wedding on 11-11-2011.
"We thought we were doing the right thing! Based on everything I'm holding in my bag of tricks I know that we should be able to see our grandkids again."
Article continues below advertisement
Kim's father warned that he was not going to stand by and let her keep the children from them.
"Now our granddaughters, who we spent time with every week, have been sidelined and this fight has just started."
Kim's rep released a statement to RadarOnline.com about the family situation on Monday, writing that she is "heartbroken and saddened by the derogatory and spiteful statements made by her mother and father, Karen and Joe Zolciak," and that she "cannot comprehend for what rational purpose her parents have decided to humiliate their grandchildren's mother in such a public display of hatred and fabrications."