Kim Zolciak Fires Back! Says Her Mother Committed A Crime!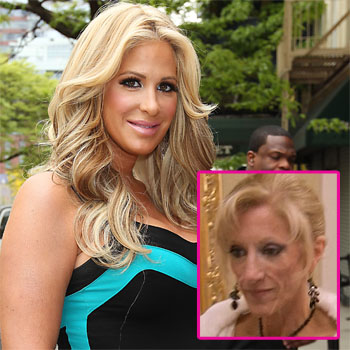 Article continues below advertisement
Kim is "heartbroken and saddened by the derogatory and spiteful statements made by her mother and father, Karen and Joe Zolciak," her rep Jack Ketsoyan told RadarOnline.com and said she "cannot comprehend for what rational purpose her parents have decided to humiliate their grandchildren's mother in such a public display of hatred and fabrications."
The reality star has been taken to court by her parents over their visitation rights for their grandchildren, whom they have not seen since they were thrown out of Kim's 11-11-2011 wedding to Kroy Biermann.
"It is clear from the pleadings filed by Mrs. Karen Zolciak that by claiming she is indigent she has committed perjury, a felony in Georgia, which holds a sentence of not less than one year of imprisonment but not more than 10 years imprisonment, a $1000.00 fine, or both," Ketsoyan said.
"This alone should alert everyone that this Grandparent's visitation lawsuit is for nothing more than publicity to drive up the price of her purported 'tell all' book about her daughter. Is there nothing more sacred than a parent and child bond, a mother and father's love and a desire to protect their children? Apparently not for Mr. and Mrs. Joe Zolciak."
Article continues below advertisement
Kim and Kroy live with their four children, Brielle, Ariana, KJ and Kash, and they said they are trying to protect them "from their grandparents if the grandparents' only desire is to garner unnecessary and unjustified media attention by abusing their grandchildren for their own selfish reasons. They are committing the exact same exploitation that they claim Mrs. Biermann is subjecting the children to by occasionally being taped during The Real Housewives Of Atlanta show on Bravo."
Karen Zolciak told RadarOnline.com that she believed the drama is "made up" for TV.
Kim fired back, saying she "cannot fathom why at this time her parents would vilify her in the press and then seek to have Mrs. Biermann to allow visitation. Mr. and Mrs. Biermann are not seeking media attention on this case, this is a personal and private matter, and would ask that the media respect their families' privacy for the sake of the children."