Kelly Preston Opens Up About Son Jett Travolta's Death, Explains What She Thinks Caused His Autism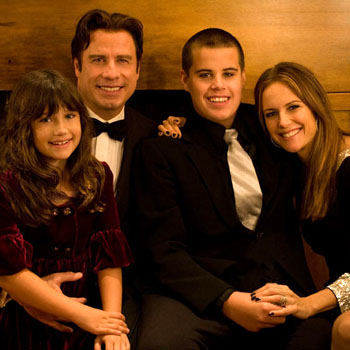 Kelly Preston and John Travolta rarely talk about their late son, Jett, and the health conditions that led to his untimely death, but the actress opens up for the first time on Tuesday's episode of The Doctors about his autism and what she believes caused it, and RadarOnline.com has the details.
Jett passed away in 2009 after suffering a seizure and hitting his head in a bathtub at the family's home in the Bahamas, and Preston said it was his autism that contributed to the accident.
Article continues below advertisement
"Do not believe a lot of the things you read," the 50-year-old says about all the reports surrounding her son's death. "Jett was autistic. He had seizures, and when he was very young, he had Kawasaki syndrome."
Preston went on the show to advocate the health benefits of organic eating and to educate people on the dangers of using pesticides and chemicals in consumer products and commercial foods because she believes that they contribute to the rising rates of autism in children.
In the extremely heartbreaking interview, the actress explains her belief that the autism and seizures that contributed to the accident were caused by a collection of multiple factors that included Kawasaki Syndrome, complications from her "fast and hard" labor, and the use of antibiotics while breast feeding.
The antibiotics, "gave Jet thrush," she says, an infection of Candida yeast, which certain studies have linked with the symptoms of autism.