Exclusive
Linda Hogan Slams Hulk's Sex Tape: 'It Was Sickening!'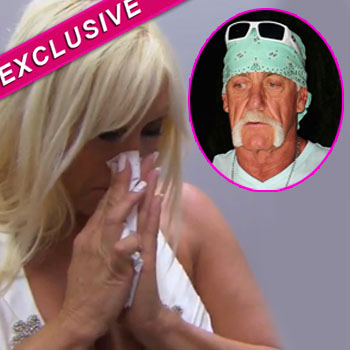 Article continues below advertisement
"I knew something was going on behind my back, I just didn't know it was so close to home," Linda said.
She said they were friends but they didn't go to dinner together and now she knows why!
"I was at her wedding! That tape was sickening. Watching them do that behind my back turned my stomach," Linda said.
Linda subsequently divorced Hulk and said that their marriage wasn't picture perfect.
"He couldn't even look me in the eye sometimes during our relationship, and I bet he thought I was too busy to notice his lies," she said.
Linda certainly hasn't let her last marriage stop her from finding love though. She got engaged to her much younger boyfriend Charlie Hill on Couples Therapy and even signed up to be a part of the TLC reality show Brides of Beverly Hills during her search for a wedding gown.
"I didn't get to do all those fun things when I married the Hulkster," she said. "So I went to see Renee Strauss and she gave me all of these beautiful dresses to try on and I loved it."
Article continues below advertisement
Linda said her hunky young boyfriend saved her when she was at her lowest point following her divorce, but that the relationship had to end.
"He was like my guardian angel. He was there for what I needed and it wasn't fair to settle for him. He wasn't happy living in my shadow," she said.
Check out the video of Linda trying on wedding dresses and see the full episode of Brides of Beverly Hills Friday night on TLC at 10/9c.
Article continues below advertisement
Bubba The Love Sponge Implies Hulk Hogan Actually Leaked Sex Tape!