Hulk Hogan's Ex Wife Pockets $7.4 Million In Divorce Settlement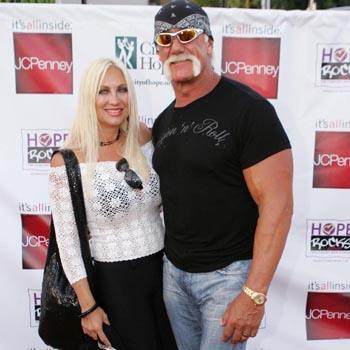 Linda Hogan obviously learned a thing or two about headlocks during the years she was married to wrestler Hulk Hogan.
Linda is pocketing $7.44 million in their divorce settlement, RadarOnline.com has learned.
Court documents, filed this week, revealed that Linda, 52, received about 70 percent of the couple's liquid assets as part of their 2009 divorce.
Details from the settlement show Linda received $7.44 million of the couple's $10.41 million that was held in bank and investment accounts.
Article continues below advertisement
Hulk, real name Terry Bollea, got the remaining $2.97 million, the St. Petersburg Times reports after reviewing the documents.
Linda also received 40 percent ownership in Hogan's various companies and an additional $3 million "property settlement."
Linda also got to keep a Mercedes-Benz, a Cadillac Escalade, a Corvette, a Rolls-Royce and various off-road vehicles.
The pair agreed to sell their three homes, including their $13.9 million estate in Belleair, Florida, where much of the reality series Hogan Knows Best was filmed.