Exclusive
When East Meets Texas! Dr. Oz Tried To Teach Dr. Phil Meditation To Combat Stress, But He Just Can't Relax!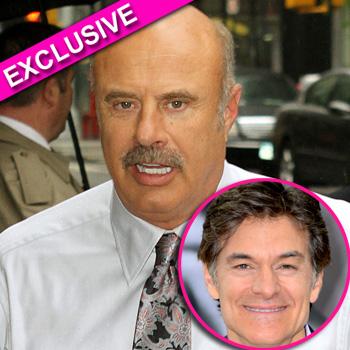 By Jon Boon - RadarOnline.com Reporter
Talk show rivalry went out the window when Dr. Oz advised Dr. Phil to take up transcendental meditation to help combat his stress, RadarOnline.com is exclusively reporting.
Oz, 52, practices the relaxing technique himself and thought it would be a perfect way for his 62-year-old talk show counterpart to find some harmony in life.
However, Dr. Phil was an impossible patient, and just a month later he gave it up!
Article continues below advertisement
"Dr. Oz and Dr. Phil met recently and Oz gave him some friendly advice about coping with stress," a source tells RadarOnline.com.
"Oz said that transcendental meditation helps him deal with his grueling work schedule and his health has benefited from it, so Phil should try it for himself.
"Oz even offered to help Phil through the process, they exchanged numbers, and he told Phil to call him up whenever he needed help.
"Open to the idea, Phil began to try meditating. The problem was, he couldn't shut his mind off, and he was constantly agitated and checking his phone all the time.
"Phil told Oz the difficulty he was having with switching off, so Oz offered Phil a few solutions. He told Phil to leave his phone in the other room and turn the device off.
"He even gave him some CDs that featured the calming sounds of ocean waves to help him clear his mind.
Article continues below advertisement
"This just drove Phil crazy and he quit less than a month later," the source reveals.
As RadarOnline.com previously reported, Dr. Phil's 36-year marriage to Robin McGraw continues to downwardly spiral, according to the National Enquirer.
The TV shrink and his long-suffering wife have been butting heads over her role on his show, sources claim, with the resulting fights turning their mega-mansion into a war zone!