Exclusive
Lindsay Lohan Tells Mom Dina 'You Need To Go To Rehab!'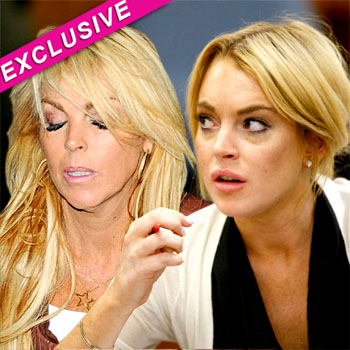 By Jen Heger - RadarOnline.com Assistant Managing Editor
Lindsay Lohan has told her wayward mother Dina, she needs to go to rehab - STAT! - RadarOnline.com is exclusively reporting.
"Lindsay told Dina during their fight Tuesday night that she needs to go to rehab," a source close to the situation tells RadarOnline.com.
"Dina went absolutely ballistic when Lindsay said this to her and insisted that there was no reason for her to get treatment. Lindsay is very concerned about her mom though and tried to convey this to Dina, but she was very emotional and tired. Lindsay even told her mom that she shouldn't be going out to clubs with her and should act more like her mother and less like her friend."
Article continues below advertisement
As previously reported, Lindsay and Dina got into a vicious fight in New York on Tuesday night resulting in the cops being called to the scene, and RadarOnline.com has exclusively learned that the mother-daughter duo were battling over $40,000 that Lindsay gave her mom!
"Lindsay recently gave Dina $40,000 and after partying in the club together, she told her mom she wanted the money back and that's when the huge fight started," an insider previously told RadarOnline.com.
Lindsay and her mother started the night partying at Electric Room, a club in the Dream Hotel where Lindsay had previously gotten into an altercation with congressional staffer Christian LaBella, whom Lohan accused of assaulting her — Labella was arrested but charges were later dropped due to lack of evidence.
Lindsay and Dina's fight started after they left the club in a car on the way to Dina's Long Island home. As the argument escalated, the source said Dina broke Lindsay's diamond bracelet and scratched her leg. Cops were called to the home, but no arrests were made.
Article continues below advertisement
During a bizarre recent appearance on the Dr. Phil Show, Dina, 49, was fidgety and giggling throughout the entire interview, leading to speculation she was under the influence. Mama Lohan insisted that she wasn't drunk though during the interview, just suffering a bad case of the nerves.
"Dina and Lindsay's relationship is very complicated. It's not a traditional mother/daughter dynamic and both need to take a break from each other. Lindsay loves her mom, but is very concerned for her well-being," the source says.
Meanwhile, as previously reported, Lindsay isn't the only Lohan that wants Dina to seek treatment for her issues.
Michael Lohan has also urged his ex-wife to check into rehab, sending a message to Dina through RadarOnline.com: "Sober up and learn to stop using our kids as pawns like you just did to Lindsay again after calling out for me after her arrest! Fix YOUR soul!"
RELATED STORIES: