Exclusive
Diane Sawyer 'Absolutely Wasn't Drunk, Just Extremely Tired From Exhausting Work Schedule'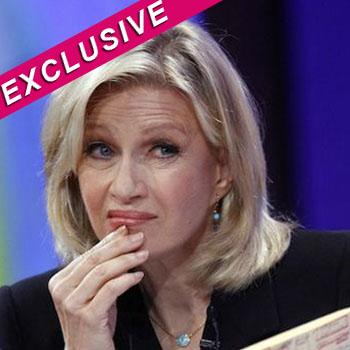 By Jen Heger - RadarOnline.com Assistant Managing Editor
Social media erupted Tuesday night during ABC's coverage of the presidential election with speculation that Diane Sawyer was drunk because of her slurred speech, but RadarOnline.com has exclusively learned that the respected journalist was simply exhausted from a grueling work schedule.
"For anyone to suggest that Diane Sawyer was drunk on the air just doesn't know her," a source close to the situation tells RadarOnline.com. "To be very clear, she absolutely wasn't drunk, but she was extremely tired from an exhausting work schedule. Diane often jokes that she doesn't need a lot of sleep and is always extremely professional. She worked all weekend preparing for the election and covering the aftermath of Hurricane Sandy.
Article continues below advertisement
"Diane worked longer than normal hours last week because of the storm. On Monday, against the advice of her bosses, Diane was adamant that she take part in the kick-off of ABC's telethon to raise funds for victims on Good Morning America. Diane doesn't know the meaning of rest and she can't stay away from breaking news, it's just in her blood. What viewers saw on the air last night was just Diane a little bit off of her game because she is exhausted. She needs a vacation, but probably won't take one for a while."
As RadarOnline.com previously reported, Sawyer's announcement that President Barack Obama had won Minnesota at around 10 p.m. ET was a frequently cited gaffe in a night choc full of them.
She said, "OK … I wanna … can we have our music, because this is another big one here? Minnesota, we're ready to project Minnesota, right now. Well, tonight we know that President Barack has won Minnesota."
Of course, Sawyer's broadcast Tuesday set Twitter abuzz, as many celebs took notice the 66-year-old news veteran seemed to be feeling no pain.
Article continues below advertisement
"I'll have what Diane Sawyer is having," singer Josh Groban tweeted. The Real Housewives of New Jersey personality Albie Manzo tweeted, "Diane Sawyer is waaaaaaassted right now," while Dina Manzo tweeted, "I want whatever Diane Sawyer is taking or drinking tonight."
"Seriously, one of Diane Sawyer's eyes is closed," their co-star Greg Bennett wrote, while the band They Might Be Giants added, "And Diane Sawyer declares tonight's winner is... chardonnay!"