'Miracle' Boy Born Without A Brain Dies After Surviving Three Years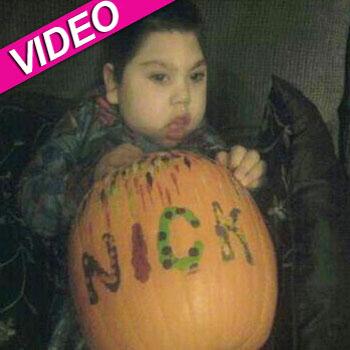 By Debbie Emery - Radar Reporter
A boy who defied the odds by surviving three years after being born without a brain has sadly died, RadarOnline.com is reporting.
Nickolas Coke was dubbed a medical miracle by reaching the landmark age despite suffering from anencephaly - meaning he was only born with a brain stem - a condition that causes most babies to be still born or die within days, reported KOAA.com.
Article continues below advertisement
The toddler from Pueblo, Colorado, was last photographed smiling at a Halloween pumpkin patch before succumbing to the disease that only occurs in one in 10,000 births.
"He was laughing because he thought it was funny that we couldn't get him to stay still enough to roll off the pumpkins," recalled Sherri Kohut, Nickolas' grandmother, who believes that he recently caught a virus.
"He woke up this morning around six. He was breathing really really bad," she said on Wednesday, describing his death after three failed attempts at CPR.
"They told us no more, let him go. So he died at 12:40 today. Peacefully."
The three years his family had with Nickolas is far longer than the days that doctors expected him to live, and his family made sure to focus on the positive rather than worry about when the end would come.
"He was never hooked up to any machines, no tubes, no nothing," said Kohut. "He taught us everything, he taught the love, how to be family. He taught us everything… he was our hero."
Article continues below advertisement
Last month Nickolas became the proud older brother to younger sibling, Jace Nickolas James, who was named in his honor.
Coke's family expressed a special thank you to the Sangre de Cristo Hospice, which helped care for the little boy all his life.
"I want to thank everybody for their support of us," said the mourning grandmother.
"No one understood what we had to go through, but there were a lot of exceptional people out there that had kind words and respect for our family to understand Nicky was here for a reason."