Hurricane Sandy Claims Littlest Victims: Bodies Of Boys Found In Flood Waters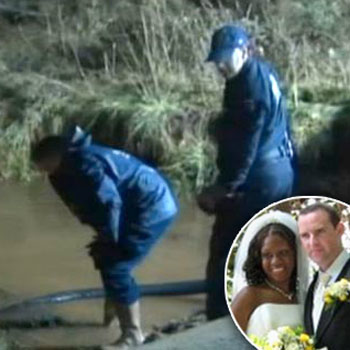 By Alexis Tereszcuk - RadarOnline.com Entertainment Editor
A tragic ending came on Thursday as the two little bodies of missing boys who were swept from their mother's arms in the Hurricane Sandy flood waters were found by police.
Glenda Moore was frantically trying to escape from her Staten Island, NY neighborhood on Monday night when the waters rushed into her SUV and she got out holding her sons Brandon, 2, and Connor, 4. The rushing water ripped them out of her arms as she struggled to hold onto them and she watched in horror as they were swept away.
Article continues below advertisement
In a heartbreaking and callous chain of events, Glenda tried to knock on doors but was refused help, with one person turning her away, saying "I don't know you. I'm not going to help you.
She was finally able to flag a police car down on Tuesday morning and rescue workers and police officers began searching in deep water for the children.
The children were found under water and about 20 yards apart from each other, buried by trees and debris the New York Post reported.
Police Commissioner Ray Kelly spoke about the loss of the children.
"Terrible, absolutely terrible," he said. "It just compounds all the tragic aspects of this horrific event."
He described the frightening situation Glenda was in as she tried to help her children.
"The car apparently was hit by a wave. It stopped, it couldn't run.
"She went to get the boys out of the car. Another wave. The water started coming up. She put the two boys on the roof of the car to avoid the water and then another large wave came and apparently washed it away. Of course the mother was totally, completely distraught. She started looking for them herself, asking people to help her look."
Article continues below advertisement
A neighbor fondly recalled Glenda's sons. "They are beautiful little guys," Laurene Ryan said. "I usually hear them playing in the yard. Connor always had a smiley face. They're such nice people.
"This is so wrong. This is just unbelievable. There are no words."
The death toll from Hurricane Sandy continues to rise as more bodies are found in the receding flood waters.
RELATED STORIES:
The Most Shocking Twitter Photos Of Hurricane Sandy's Aftermath