'Go Ride A Jet Ski!' Woman Snapped Riding A Manatee Arrested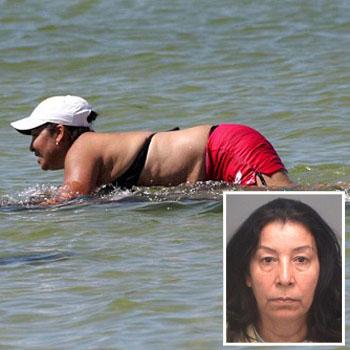 A woman has been arrested – and faces up to 60 days in jail – for riding a manatee at a Florida beach. Ana Gloria Garcia Guiterrez was taken into custody on Saturday nearly two months after she was photographed riding on the back of the protected mammal.
The 53-year-old made headlines in October when she was snapped in St Petersburg, Florida riding a manatee, which is sometimes called a sea cow. The incident took place at the Fort De Soto Park on September 30. A passerby took photos of Guiterrez – who was wearing red shorts, a black bikini top and a white baseball cap. The images went viral after the photos were posted online.
Article continues below advertisement
Sheriff Bob Gualtieri held a press conference shortly afterwards and asked the public to help identify the person in the photo. He said at the time: "Go ride a jet ski. Don't use animals."
Guiterrez soon turned herself into police but said she was new to the area and was not familiar with the law protecting manatees. According to the Florida Manatee Sanctuary Act: "It is unlawful for any person at any time…to annoy, molest, harass or disturb…any manatee."
But cops did not take Guiterrez into custody until Saturday when they arrested her at Sears, in the St Petersburg mall where she works. If punished, she faces either a $500 fine or up to 60 days in jail.
PHOTO: Check Out Joanna Krupa's Hilarious And Fully Uncensored PETA Ad
Friendly and mild-mannered in nature, manatees can grow to up to 13-feet long or weigh as much as 1,300 pounds. The manatee Guiterrez was riding is thought to be unharmed.
Article continues below advertisement
But the reality could have been far worse. In October PETA spokeswoman told RadarOnline.com: "It's bad enough that these slow-moving, gentle creatures are ripped apart by boat propellers. Animals in general will be better off when people learn that they exist for their own reasons and that you can love them without having to climb all over them."
RELATED STORIES:
Caged Wolves At Twilight Premiere Party Outrages Party-Goers And PETA
Behind The Scenes Of Joanna Krupa's Super Sexy PETA Campaign, See The Uncensored Ad Too!
Woman Angers Police And PETA For Riding A Manatee, 'Go Ride A Jet Ski, Don't Use Animals'
SeaWorld Killer Whale's Gory Injury Sparks Angry Protest From PETA