Just In Time! California Woman Had No Idea She Won $23 Million, Finds Lost Ticket In Car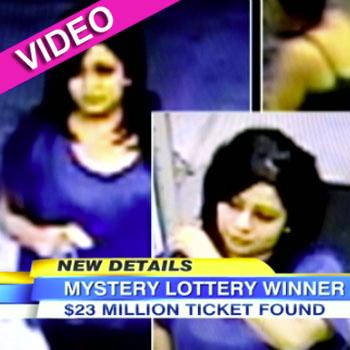 By Debbie Emery - RadarOnline.com Reporter
A California woman had no clue that she was a multi-millionaire until her photo appeared in a local newspaper after a desperate search for the mysterious jackpot winner before the deadline ran out.
With just 25 days until the $23 million prize would have been forfeited, her daughter spotted the photo from the surveillance video at the store in their paper and told her mom the good news, reported Good Morning America.
Article continues below advertisement
Be Careful What You Wish For! The Tragedy Of Past Lottery Winners
"She said she just never checked the ticket," revealed California Lottery spokesperson Alex Traverso. "When her daughter sent her mother a picture of the newspaper this morning, she just went back out to the car and the ticket was sitting right where she left it. Pretty amazing."
Watch the video on RadarOnline.com
The valuable scrap of paper had been sitting in her car for five months since she bought it from Michael's Market & Liquor in Palmdale, California, all the while as lottery officials anxiously searched for the buyer.
The ticket matched all six numbers - 14, 7, 26, 31, 23 and Mega 5. After the liquor store learned they had sold the winning ticket, they posted signs outside the store along with photos from surveillance of the winner.
"We have signs outside that say, 'The millionaire made here,' with the check that she won, the $23 million," said store owner Ben Sadi.
Along with getting the money to its rightful owner, the shop has a lot to gain by the ticket being cashed as they receive a bonus of one half percent for selling the winning ticket, which amounts to $115,000.