Celebrity Apprentice: All-Stars Cast Announced!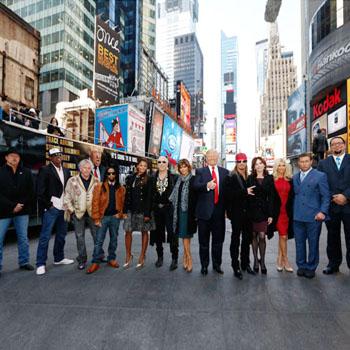 Celebrity Apprentice is bringing back its' most entertaining alumni for the show's upcoming All-Stars season, bringing past contestants in the vein of Dancing with the Stars for one more shot at the prize, and Donald Trump and his new cast appeared on TODAY Friday to preview the upcoming season.
The 14 famous faces are, in alphabetical order: Trace Adkins, Stephen Baldwin, Gary Busey, Marilu Henner, La Toya Jackson, Penn Jillette, Claudia Jordan, Lil' Jon, Omarosa Manigault, (former winner) Bret Michaels, Lisa Rinna, Brande Roderick, Dennis Rodman and Dee Snider.
Article continues below advertisement
Michaels, the only contestant in the current cast who's won the show, said "this year is going to be insane.
"The competition is going to be insane … last time I was really sick, and this time I'm ready to come back, being a lifelong diabetic."
Henner said that "there's a different energy with this group -- everybody has been through it before so everyone knows what to expect.
"We know each other's strengths and weaknesses because we've seen the show. I think everyone is here to have a great time and to support their charities."
Rinna, who was eliminated early on into the show's 11th season, said, "If at first you don't' succeed, try, try again … I don't really know what I'm capable of."
Busey said he's primed to win this time "because he's a champion."
Watch the video on RadarOnline.com
Past winners of the competition, which is played for charity, include talk show ace Piers Morgan, comic Joan Rivers, country singer John Rich and former talk show host Arsenio Hall. All will serve in an advisory capacity this season.