Donald Trump Sends Surprising 'Get Well' Message To Rival Rosie O'Donnell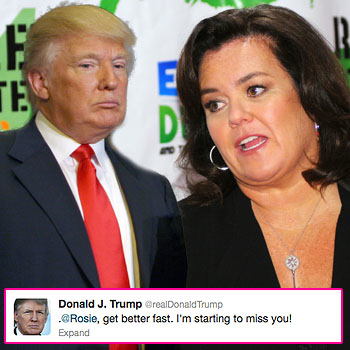 Article continues below advertisement
But as RadarOnline.com reported on Monday, the former talk show host suffered a heart attack and blogged about the scare on her website, pulling at Donald's heartstrings.
"well thank u donald - i must admit ur post was a bit of a shock," Rosie tweeted back in response to The Donald's shockingly nice message.
"r u trying to kill me? xx"
After having an ache in her chest and arms last week, Rosie took Bayer Aspirin, but did not call 9-1-1 and waited until the next day to go to the cardiologist, where she was told that she had a heart attack and was sent to the hospital where a stent was put in.