Caroline Manzo: 'I Won't Allow' Teresa Giudice's Weight Taunts To Upset Me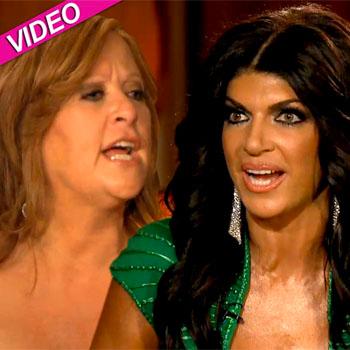 Article continues below advertisement
She wrote in her Bravo blog, "I'm sorry for my outburst, but that was about Nicholas and I believe it was disrespectful and selfish of Teresa to infuse herself into that moment."
Also on Sunday, Teresa insulted Caroline in the episode with verbal taunts, at one point telling her, "Look at yourself, you have three rolls -- blubber, blubber and blubber!"
Caroline didn't care.
"I'm a big girl, and I'm very aware of my shortcomings," she wrote on her blog. "Yes, I am getting older, and yes, I do struggle with my weight and have a wrinkle here and there … the comment didn't hurt me, because I won't allow it to.
"I have the power to not let it affect me. Maybe it's just a basic maturity that we, as adults, should have."
Watch the video on RadarOnline.com
Caroline wrote while she loves daughter Lauren jumping in to tell the shallow Teresa off, she doesn't like "seeing her children dragging themselves into the mess.
"What Teresa said hit home for her," Caroline explained, "and she needed to let Teresa know how she felt about it. Sticks and stones."