Top Model Reveals The Horror Of Modeling Industry Pressure To Be Dangerously Thin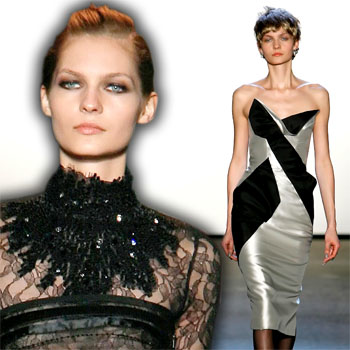 The fashion industry may be claiming to be working to improve healthier body images when it comes to models, but clearly it still has a long way to go.
In a new blog for I Love You Magazine, 22-year-old Karolin Wolter shares horrifying details about the pressures put on her to get dangerously thin during her years as a model, and how she attempted to transition into the world of plus-sized modeling to escape the danger to her mental and physical health.
Article continues below advertisement
Wolter, who has posed for everyone from Marc Jacobs to Yves Saint Laurent, was 137 pounds before she got into modeling, dropping down to 126 when she first signed with her agency in 2008, but people were still telling her that she had to lose weight.
"During my first fashion week in February 2009 I was 53-55kg (117-121 lbs) — almost 10kg (22 lbs) under my natural body weight," she reveals. "I did well, I did really well, but even then my agents were telling me 'You know Karolin, next season are the spring/summer shows, you have to be even skinnier.'"
Though she was thinner than ever, her self-esteem was at an all time low.
"In those days I rarely, if ever, had the feeling that anyone in the industry actually thought I was perfect the way I was. I am not surprised it completely f***ed with my mind."
The pressure started mounting and taking a toll on her health.
"My natural eating behavior disappeared entirely. I didn't know if I was hungry or what I was hungry for. Every time I looked in the mirror I had this feeling of not being the way I was supposed to be. Every day the burden became heavier."
MORE ON:
hollywood happenings
Article continues below advertisement
Finally, Wolter was forced to quit the industry when she "couldn't look in the mirror anymore."
After spending a few months hiking in the Alps alone and taking an apartment in Berlin, she decided to return to the modeling industry, but promoting only her real measurements. She also suggested to her agent that she could be a plus-size model, but despite telling her she wasn't big enough, plus-size agents in New York were happy to take her in, though internationally she was still booked as "straight size."
She admits that this was a mistake, as she had trouble booking gigs in the plus-size industry because she needed to wear pads to look bigger, and her agents in Europe had trouble booking her because everyone thought she was too big because of her hype as a "plus-size model."
Now back to her "straight size" status, she admits that she enjoyed her time in the plus-size world.
"I was proud — I actually loved being called plus-size. I told everyone I was plus-size. I love the words 'plus-size.' To be given this label was most likely the happiest day I can remember."