More On The Sizzling Feud Between Nicki Minaj & Mariah Carey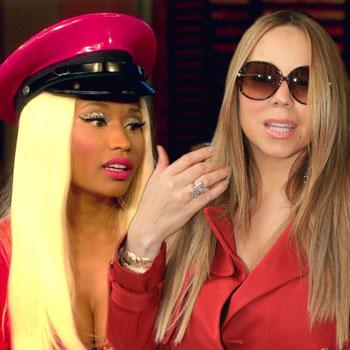 Nicki Minaj and Mariah Carey have an oil-and-water relationship that's made at least one American Idol insider declare, "The tension is crazy now" and RadarOnline.com has the details.
The wife of Nick Cannon, sources say, "is genuinely afraid" after the Super Bad singer went off on her during the show's auditions in North Carolina, when she declared, "I'm not f***ing putting up with her highness over there - figure it the f*** out, figure it out."
Article continues below advertisement
The feud was further fueled when Minaj threatened to brandish a gun on Mariah, as told to Barbara Walters by the Vision of Love singer, who said she had to beef up security after the bold statement.
While Carey blew off the rumors - saying, "A feud takes a little longer than two days!" - an insider says Mariah "is genuinely afraid" and irritated by Nicki's antics, and probably wouldn't have even signed onto the Fox program if she knew she wouldn't be the only woman on the panel.
In addition, Nicki's late arrivals have grated on Carey's nerves, a source told US magazine, adding "Mariah thinks it's rude and holds up production."
Still, in spite of the dueling divas, show officials are tickled pink over the buzz they hope to garner from the toxic mix.
"They're thrilled with Nicki," an insider says. "The execs love the drama … they feel like they've struck gold."
RELATED STORIES: