Liberty Ross Cryptic About Marriage In First Interview Since Kristen Stewart Affair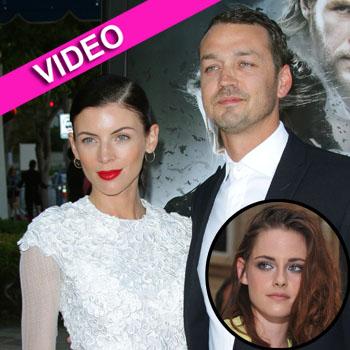 Liberty Ross has broken her silence about the affair that heated up Hollywood this past summer -- between her husband Rupert Sanders and Twilight beauty Kristen Stewart -- cryptically saying that 2012 marked "the end" of certain things in her life.
"I have a really good balance. I'm very happy with my life, and I'm lucky," the stunning 34-year-old said in a confessional segment filmed at designer Alexander Wang's runway show during New York Fashion week last month, where she modeled. "I have good people. I have two amazing children."
Article continues below advertisement
"I believe that we're all on journeys, and we are all given lessons at certain times in our lives," the articulate British beauty continued. "Sometimes, when things seem really bad, you have to be able to see the good and learn from it and just move forward as graciously as possible."
Liberty pointed out that "this year was the end of some things and the beginning of something else. Beginnings and endings are always exciting."
Watch the video on RadarOnline.com
Liberty was thrust into the spotlight after Sanders' affair with his Snow White and the Huntsman star Stewart came to light.
Kristen, 22, fessed up to the liaison shortly after pictures leaked of their clandestine meetings. Another spurned lover in the affair, Robert Pattinson, has seemingly warmed back up to Stewart after months of cool estrangement.
RELATED STORIES: