Liberty Ross Comes Out Of Kristen Stewart's Shadow At NY Fashion Week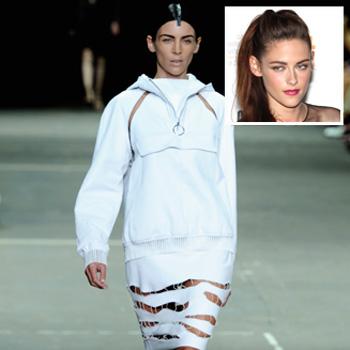 Liberty Ross strutted the catwalk at the Alexander Wang fashion show Saturday, her first public outing since revelations that her husband Rupert Sanders had cheated on her with Kristen Stewart.
Her "coming out" came at the same time Kristen Stewart faced crowds for the first time since the scandal broke. On Thursday night she walked the red carpet for her new film, On the Road, at the Toronto International Film Festival. Saturday night she again promoted the film, based on the famous Jack Kerouac novel, during a party at Soho House Toronto.
Article continues below advertisement
Ross is the only one of the foursome involved in the Stewart - Sanders affair to remain quiet on the scandal.
Immediately after photos of them kissing were made public, KStew issued a public apology for her "indiscretion" to the love of her life and Twilight costar, Robert Pattinson.
Sanders, who directed Stewart in Snow White and the Huntsman, went on to publicly apologize to Ross and their children. Pattinson made several talk show appearances where he laughed and danced around questions about the very public blow up of his romance with Stewart.
But beyond a couple of early cryptic Twitter messages -- since deleted -- Ross stayed above it all.
Saturday, she may have gotten her revenge. Her striking appearance in an all white ensemble including a hooded pullover, a laser cut pencil skirt, and ultra-strappy sandal heels got the biggest buzz of the day.
One of London's supermodels before she sidelined her career for her husband and children -- Ross seemed to be announcing she is definitely back.