Exclusive
Cast Of Jersey Shore Planning Televised Seaside Heights Clean Up Special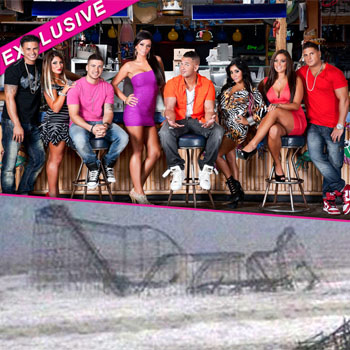 Article continues below advertisement
"Of course, this is all in the very early stages at this point and these are very informal talks that are underway. Interestingly, the producers think they won't have any problems getting Snooki, Deena and J-WOWW to agree, it's the boys they are concerned with getting, especially The Situation. However, it wouldn't be necessary to have the entire cast reunite if the project does go forward."
As previously reported, Snooki issued a statement Tuesday saying that "Sandy destroyed Seaside -- our second home.
"It's devastating to see our boardwalk and favorite spots ruined. My prayers go out to everyone affected by the storm."
The pint-sized media darling tweeted late Tuesday that "trying to change my son's diaper while holding a flash light is not easy. #nopower."
She earlier tweeted to 5.9 million followers: "U can contribute to the American Red Cross' relief efforts @ the Jersey Shore and elsewhere.text REDCROSS to 90999 to make a $10 donation."
Article continues below advertisement
Other stars of the reality show echoed similar sentiments in the wake of the calamity that's destroyed a number of businesses in the area, as well as parts of the famed boardwalk.
J-WOWW: "This is a devastating time for the East Coast and my prayers are with everyone...I am thinking about my second family at the Jersey Shore and know that we can rebuild and come back stronger."
Pauly D: "My thoughts and prayers go out to everyone affected by Hurricane Sandy, especially our friends and family in Seaside Heights. A huge thank you to all the men and women who have been working around the clock to protect and help everyone, true heroes!"
Vinny Guadagnino: "Over the last few years, it feels like Seaside Heights has become my second home. My thoughts and prayers go out to everyone who was affected by this disaster in Seaside and all across the Northeast. I'm here to support in any way I can."
Sammi Giancola: "The impact Hurricane Sandy had on the Jersey Shore is beyond devastating. So many families and homes were destroyed and my heart and prayers go out to everyone affected by this storm."
Article continues below advertisement
She later tweeted, "Anything to help the people affected by this storm including my own hometown etc. I will be helping the jersey shore get back together altogether. This is my home." (Snooki re-tweeted this.)
Ronnie Magro: "This is crazy living there for 4 summers & seeing in such disaster!"
"For better or for worse the kids of the Jersey Shore put Seaside Heights on the international map and if they can help raise money and awareness because of the horrific storm, who can criticize that? This could be a win/win for the residents and business owners of Seaside and MTV," the source says.