One Year Down! Duchess Of Alba And Boy Toy Husband Celebrate First Wedding Anniversary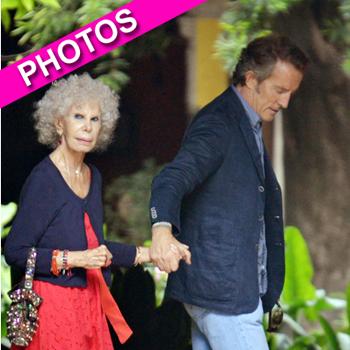 Article continues below advertisement
Looking surprisingly sprightly for 86, the most titled aristocrat in Europe always has a spring in her step when she walks with 62-year-old Diez around their home city of Seville.
Maria del Rosario Cayetana Alfonsa Victoria Eugenia Francisca Fitz-James Stuart y de Silva caused a scandal among her family when she announced she was walking down the aisle with the civil servant, who is 25 years her junior, in fear that she would lose the fortune that is estimated between $800 million to $4.7 billion to him.
The Duchess' younger spouse has since won over both the citizens of Spain and her kids by renouncing his claim to money.
As RadarOnline.com previously reported, the Spanish royal divided her fortune between her children and grandchildren before the wedding.
The quarter century age gap and massive difference in bank accounts between the pair ruffled so many feathers among Cayetana Fitz-James Stuart's six children that she decided to prove that she was genuinely the object of Diez's affection by giving them her inheritance before walking down the aisle, including gifting all of them (and her eight grandchildren) a palace each.
Article continues below advertisement
She also made Diez, who works as a civil servant in the department of security, sign a legal document renouncing any claim to her wealth after they tied the knot.
If their first year of marriage is anything to go by, it seems clear that money was not the motivation for Alfonso saying "I do," with the eccentric aristocrat!
RELATED STORIES:
The Duchess Of Alba Frolics Around Spain With Boy Toy Hubby In Flirty Summer Fashion