Wow! Bristol Palin Surprises Judges On Dancing With The Stars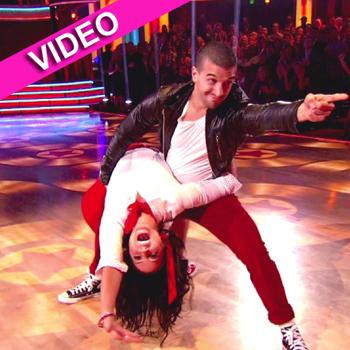 She's already outlasted Pamela Anderson, Joey Fatone, Helio Castroneves and Drew Lachey coasting on the fumes of her popularity; now, Bristol Palin is making Alaska-size strides in the ballroom.
The 21-year-old daughter of Sarah Palin continued her progression on Dancing with the Stars: All Stars Monday, racking up kudos from the panel of judges for her rock n' roll themed number set to At the Hop with partner Mark Ballas.
Article continues below advertisement
Carrie Ann Inaba high-fived the reality star, telling her, "It's so nice to see you come out of your shell … you're truly blossoming!"
Len Goodman praised the single mom for the stellar effort she gave, saying, "You came out and gave it your all."
Bruno noted Bristol was "hitting all the steps" and kept her focus for a well-done routine.
Guest judge Paula Abdul suggested Bristol take more chances in her routines moving forward.
"If you don't push the boundaries, the boundaries end up pushing you, and maybe in a direction you don't want to go," Paula told Bristol, adding, "It looks like you're starting to have some fun."
On the evening, the ex of Levi Johnston scored 8s across the board, giving her a 32-point total that edged fan favorite Kirstie Alley (30) for the night's lowest score.
Watch the video on RadarOnline.com
We'll see if Bristol can hang on when Dancing with the Stars: All Stars continues Tuesday on ABC at 8/7c.