Getting Older Is 'The Best Part' Of Life? Cameron Diaz Gushes 'I Feel Better At 40 Than I Did At 25'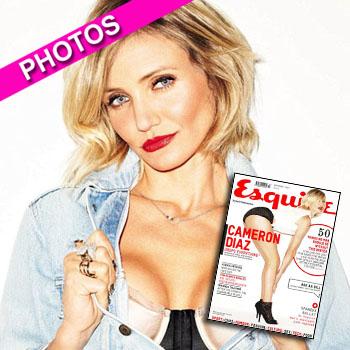 Sofia Vergara may not be embracing her forties, but Cameron Diaz most certainly is – in the sexiest way possible!
The bombshell blonde was shot showing off her hot bod in S&M style duds by Terry Richardson for the November 2012 cover of Esquire UK, where she opens up about getting older, why she hasn't married and the chances of her having kids – and RadarOnline.com has the details as well as the racy photos.
Article continues below advertisement
"There's no such thing as anti-aging — it's all a crock of sh*t, you can't go back in time," Diaz candidly claimed. "For the first time in my life I'm content. I'm so excited. Getting older is the best part of life. Like, I know more than I've ever known. I have gratitude. I know myself better. I feel more capable than ever. And as far as the physicality of it — I feel better at 40 than I did at 25."
Diaz, who has dated a slew of men from Jared Leto and Justin Timberlake to baseball's heartbreaker Alex Rodriguez, explains that she has never walked down the aisle because she simply wasn't ready.
"It just wasn't the thing I was drawn to. I certainly didn't want it in my twenties. Or my thirties. And I'm going to be 40 in three weeks. So we'll see!" she dished.
"I'd always wanted to get hitched in Vegas at least three times. It's funny because as my girlfriends get older, I see how their relationships have evolved, and you know, the people you're drawn to changes. I'm not attracted to the same people that I was drawn to in my twenties."
Article continues below advertisement
And children are not out of the question for Cameron, though she isn't going to have them just because she feels like she has to.
"I don't need to have the children in my life be a part of my literal flesh. And anyway, there's still a possibility of that, I aint that old. Believe it or not, I'm feeling very...capable."
RELATED STORIES:
Bottoms Up! Sofia Vergara Has Wardrobe Malfunction At Emmy Awards
Did Sofia Vergara Slap Her Fiance With A $10 Million Prenup To Stop Him Cheating?