Exclusive
Bullying Bridezilla Who Made Her Bridesmaid Cry Confesses: 'I Turned Into A Monster!'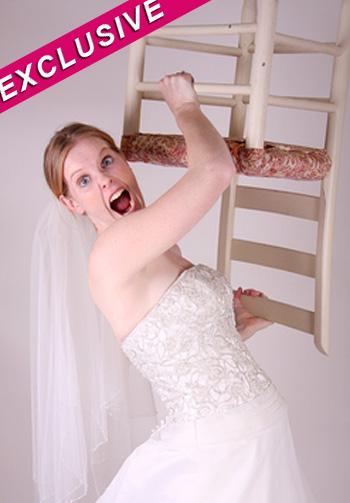 By Debbie Emery - RadarOnline.com Reporter
Having waited nine years to walk down the aisle with her true love, Cristal Cavallaro thought she would have a dream wedding, but instead it was an utter nightmare, and she transformed into a fire-breathing dragon lambasting her fiance, falling out with her mother-in-law and driving her bridesmaid to tears.
"I thought I wasn't going to be a bridezilla but looking back at all the stress that was going on, I guess I turned into one!" the newlywed from Anaheim, California told RadarOnline.com in an exclusive interview.
Article continues below advertisement
"I always think of myself as the nicest person in the world, and then the week of the wedding I started snapping and it was horrible."
The bawling and bloodshed of Cristal, 29, and Corey's 1920s themed wedding last June was caught on camera by WE TV's Bridezillas, and RadarOnline.com got an inside look at the diva's dark side before the grand finale airs on Sunday.
"The worst thing I did was go off on my mother-in-law to be. I said she was a b*tch and had no right to tell me that she wished her son wouldn't marry me." she told RadarOnline.com.
The drama started in the weeks running up to the couple saying their vows, when their families started snipping at each other at the shower. "Then the day of the wedding came and my in-laws went off on my husband, yelling and screaming saying they weren't coming to the wedding," she explained. "It was a bad time with her. I don't really talk to her even now although she lives two houses down from me!"
Article continues below advertisement
As tempers raised, the crux of Cristal's anxiety became the feeling that everyone was trying to steal her spotlight, she went on to reveal.
"It just felt like everyone was trying to make the wedding about them and not about me," she complained. "Every single person, even my husband started doing it. I get that he was the groom but it was my wedding."
The stress put pressure on Cristal and Corey's former solid relationship, to the point where they just argued constantly. "The wedding was so strenuous with the money and the planning," said the disgruntled bride.
"He wanted to party all week, it was nuts. I didn't even spend any time with him at the wedding. We said our vows and he went his way," she revealed.
Instead of savoring every minute of what should have been the happiest day of her life, Cristal said the day just passed me so quickly. "I don't even know what happened, I remember saying 'I do' and having cake, and that was it, my wedding was over."
While Cristal doesn't think she is completely to blame for all the high octane craziness, she does admit that she lost the plot and boiled over on more than one occasion.
Article continues below advertisement
"There are some things that I did that I am not proud of, like kicking my bridesmaid outside and making her cry. I feel bad about that now," she confessed.
"She kept on not showing up or being late and I was so tired of her that I told her, 'We're just going to do your make-up outside to teach you a lesson for being late.'
"She doesn't have eyebrows now because we took her eyebrows off! She was so upset because all the neighbors were watching her," admitted the bullying bride.
The poor pal wasn't the only victim of her wrath. "I went nuts on my husband because he had all his friends there and I stormed out. Then on the day of the wedding the same two girls were fighting so I went off on them. It was just one thing after another."
Cristal said she didn't think she was going freak out, but as everyday that went by she got more and more furious. "All this stuff wasn't getting done and no one was helping me, and that's when I started snapping," she said. "I look like a monster, it was just the stress and I felt like it was me that carried it all."
Article continues below advertisement
As for Corey, she claims he was a groomzilla and had many diva moments of his own.
"His friends asked if he was sure if he wanted to marry me, but I put up with his c**p too, because he was pretty demanding," she explained.
"He wanted a certain flavor of cake, he didn't want fondant and he made a big old scene at the cake place and now I can't even go there anymore because he spat out the cake and said it was disgusting."
Now that she is officially a married woman, Cristal said she doesn't have any regrets but she certainly wouldn't do it again. "Sometimes I wish I had eloped after all the stress we went through. No one ever tells you that a year of planning really tests the engaged couple," she said.
"At this point I just want to be alone!"
The final episode of Cristal's story airs on Bridezillas on WE TV Sunday, October 21 at 10 pm.