Exclusive
Woman Dubbed World's Worst Bridezilla 'Is Heading For A Breakdown At Her Wedding'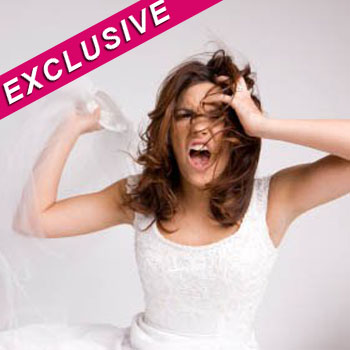 By Debbie Emery - RadarOnline.com Reporter
The most vicious list of wedding demands ever went viral last week after an email from a woman who may go down in history as the world's biggest bridezilla got leaked, and now RadarOnline.com can reveal that she is setting herself up for the ultimate failure.
"This bride is not going to be happy with her wedding no matter what happens. She is probably going to have a breakdown at the wedding because it is not going to live up to her expectations," wedding expert and TV personality Pamela Yager, of Bride's Night Out told RadarOnline.com in an exclusive interview.
Article continues below advertisement
"Anything can happen on that day, life is not always gonna be perfect no matter how obsessed you are."
According to Gawker.com, included in the horrifying rule book that the deranged – and fortunately anonymous bride-to-be - sent out to her tortured wedding party is that they notify her of all personal travel plans for the next six months, be available to fly to all events (in Vail, Las Vegas and New York), splurge on expensive dresses, and reply immediately to any e-mail correspondence.
Far from just what she says, it is the way she says it by - with bitchy comments such as "after this week the dates are set in stone," or "it takes you a week even 2-3 days to get back to me - seeeee ya!" and "if you think by affordable it's going to be a $25 Forever 21 dress then you're going to the wrong wedding" - that is so toxic.
The marriage manifesto "Is a completely outrageous request created by a woman who is hopefully not like this all the time just had a total meltdown from the pressure.
Article continues below advertisement
"This is why people like that should have wedding planners, so they can run the interference and not cause problems," explained Yager.
"If a friend said they were having money problems and voiced concerns, as a bride you don't come back and say 'That's tough. You had better pony up the money or else.'
"She needs an advisor, whether her mother or a wedding planner, on the etiquette of how to deal with your bridesmaids. They are doing this as a kind gesture for their friend so then she has to be a gracious bride," she told RadarOnline.com.
"If I got a message like this, I would pull out. The husband probably has his own issues. He must know what she is like!"
The recent influx of wedding-themed reality shows and bridal magazines have fueled women's obsessions with their big day and encouraged some perpetual planners to go to wedding expos every weekend, even if they don't have a boyfriend!
"They are living in a fantasy world and trying to live this princess dream life," revealed Yager.
Article continues below advertisement
While some aspects of the bride's set of strict rules are what you would want to tell your bridesmaid, there is no reason to be so nasty.
"It is outrageous that someone would be so direct and so mean. I think the bridal party need to all sit down with her and tell her how it is," said Yager.
As for the bridezilla, "She should have explained the financial burden and the time commitment ahead of time."