Shannen's A Bridezilla! Doherty Rips Into Browbeaten Fiancé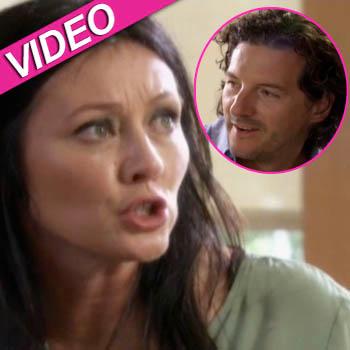 Article continues below advertisement
Fans of the 90s Aaron Spelling hit won't be surprised to discover that Shannen is a bridezilla, as she bullies fiancé Kurt Iswarienko into abiding by her strict conditions, while banning babies from the nuptials and deciding that she is going plan the wedding single-handedly in just seven weeks.
"How hard can this be?" asks the strong-willed Charmed star.
"I so can pull a wedding off in seven weeks, I have totally got this. And I have Kurt and he's completely focused, so we're good," she tells the camera, but sadly her husband-to-be doesn't quite follow her strict program.
During a lunch at Savory restaurant in Malibu, the couple has a big difference of opinion over how Sundays should be spent. Shannen wants to spend the seventh day looking at wedding locations, but like many other men in America, Iswarienko thinks Sundays are made for football and had planned to play with his pals.
"What day is Sunday?" snaps Doherty harshly. "It's family day."
Her browbeaten other half humbly agrees, but begs for lenience. "It's early, it's in the morning you're not even going to be up... I wake up at 6," he pleads.
Article continues below advertisement
"Please don't bulls***t me, I hate it when you bulls***t me," Shannon snaps back. "A grown man just got peer-pressured into playing football."
Her last comment finally forces Kurt to man-up, and say: "A grown man wants to play football, he wants to play football with his friends."
Shannen's old dysfunctional nature quickly emerges, as she takes the argument to a whole new level. "Guess what, you should have sex with your friend, you should live with your friend, you should have a full blown relationship.
"Just tell him that you can't play, that we have other plans."
The domineering bride-to-be doesn't calm down when she addresses the camera, asking: "What is he doing? It's family day, family day doesn't change! Family day doesn't become football day. We have wedding locations to look at, this is not going to work for him – or me."
Kurt tries to argue that the teams are already picked, but Shannen tells him that they need to "unpick" him and get someone else.
Article continues below advertisement
"If they can find someone to replace me on 90210 then they can find someone to play you in a frigging football game," she states, while licking her fingers greedily.
When he replies "not this game," his loving fiancée says bluntly: "Wow, you're an a**hole."
The premiere episode of Shannen Says airs on WE TV on Tuesday, April 10 at 10 pm.
radar_embed service=5min.com src=" http://pshared.5min.com/Scripts/PlayerSeed.js?sid=1126&width=486&height=412&playList=517713621&sequential=1&shuffle=0"