Exclusive
EXCLUSIVE: Shannen Doherty's Secrets To Becoming A 'Badass'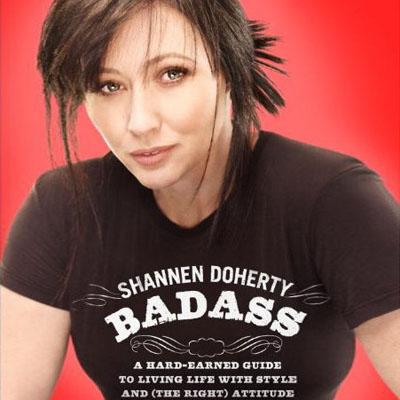 You can be bad, or you can be a Badass. That's the tag line in controversial actress Shannen Doherty's how-to-guide for becoming a Badass, and RadarOnline.com has exclusive excerpts from the not - so- typical tell-all.
"Becoming a Badass has given me the ability to break free of my insecurities. Becoming a Badass has given me the confidence to live my life in full authenticity," Shannen writes in her first book.
Article continues below advertisement
The book is not a Hollywood memoir, where Shannen spills secrets about drugs on the set of Beverly Hills 90210 or blames her parents for her problems, in fact, it's the opposite and there's no mention of Tori Spelling, Jennie Garth or Dylan McKay. It's a girl power book with hilarious advice from Brenda Walsh about how to be a Badass and not a b*tch.
On The Fine Art of Stalking, Doherty writes, "I prefer to go with three of my friends, because we make it fun for ourselves…I rarely do this sort of stalking and can remember only one time we did this for me... Never, never go in your own car or a car he knows well. Borrow your friends' care and be polite and considerate and pay for the gas. (Yes, even in stalking there are manners.)"
On Boyfriends and Lovers, she says. "I wasted a lot of time in my twenties. Not that I didn't have a great time and great loves…I won't burden you with the details about my two relatively brief and tabloid-worthy marriages – the first to Ashley Hamilton (George and Alana Hamilton's son), and the second to Rick Solomon (who, after we split, went on to become legendary for unleashing the Paris Hilton sex tapes on the world). When it comes to Rick, I'm not going to lie and say I didn't love him. I did love him. And he provided a lot of great things for me during our relationship, especially humor. He was great at making me laugh, and we had some good times. But, my God, they sure didn't equal the bad times."
Article continues below advertisement
With her frank talk about reputations, even her own "questionable" one, Shannen accepts blame for her past mistakes, but offers modern day Miss Manners style advice so other's don't make her same ones.
EXCLUSIVE INTERVIEW: New York Housewife Alex McCord Write Snarky Irreverent Second Book
With never before seen intimate family photos and even advice on how a Badass gets out of a ticket this book is definitely a refreshing look at a Hollywood bad girl becoming a Badass.