World's Worst Bridezilla? Unbelievable List of Demands For The 'Most Epic Wedding Ever'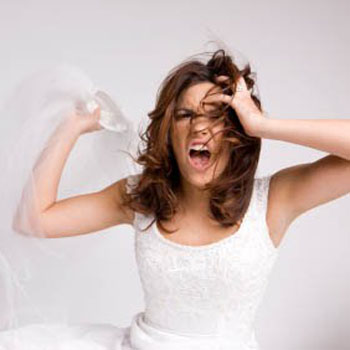 By Debbie Emery - RadarOnline.com Reporter
Being a bridesmaid is a challenge at the best of times, but imagine if the bride-to-be sent out a massive manifesto of ground rules demanding you give up your life and freedom until the "most epic wedding ever?"
A list from a woman who may go down in history as the world's biggest bridezilla got leaked to Gawker.com, in which she requires her wedding party to do everything short of sacrificing their first-born child.
Article continues below advertisement
Fortunately, she remains anonymous, or her future husband may have serious second thoughts before committing to eternity!
Here is a collection of the horrifying highlights that the mystery bride-to-be expects before she walks down the aisle.
7. Time to sign your life away.
"You all have a big role in this wedding, so before we continue I'm going to be setting some ground rules and it's very important you read and think about everything through before you accept this honor to be a bridesmaid.
"We set the date to August 31, 2013 if that's a problem we need to know NOW. Also by the end of the week we will be setting dates for the engagement party, bridal shower and bachelorette party.
6. The bride does not want to expect the unexpected, not matter how far away you live.
"A few girls live out of town so if there is going to be a problem with coming to either one then I need to know now because after this week I don't want to be surprised."
Article continues below advertisement
5. Don't dare drop out - but if you do we already have a replacement for you!
"Our wedding party is really the most important people at the wedding besides myself and Jake so we want every single one of our bridesmaid and grooms at our parties.
"I have 10 not 8 where two couldn't make it so if you already know you can't make one of the parties then we have to find someone else, not to be harsh in the slightest it would sadden me and of course you'll still be invited to our wedding, engagement, etc."
4. Cancel all life plans for the next nine months – any vacations, illnesses, emergencies, family deaths or occurrences of every day life until August 31, 2013 must now be approved by your new boss and ruler.
"I would like everyone to send me any dates they are going away or planning to go away after February so if you're going away in January I don't care. I want any dates from February to the day of our wedding in August, that way we know not to plan something when you're away. But after this week the dates are set in stone."
Article continues below advertisement
3. If you are poor, then you can't afford to be my friend. Tax records, annual salary and home value may be used in evidence to assertion who is "wedding party worthy."
"If money is tight and you can't afford to contribute to say the bachelorette party or won't be able to afford a dress etc then L— and Myself don't have time to deal with that, I'm sorry.
"This includes flights as well, everyone knows the states where the parties are going to be held so if you won't be able to afford a flight then that means you can't make a party, which ultimately means I can't have you as a bridesmaid.
"That goes for bridesmaids dresses as well, everything will be affordable but if you think by affordable it's going to be a $25 Forever 21 dress then you're going to the wrong wedding."
2. Have your iPhone surgically attached to you, as iGod forbid you miss an e-mail and do not reply immediately you run the risk of being struck down and cut from the wedding – and the bride's life (this actually sounds like an easy way out).
Article continues below advertisement
"If you accept this honor another thing is that you need to be available, I'm not going to harass you with wedding stuff every hour of everyday but if it's something important and it takes you a week even 2-3 days to get back to me - seeeee ya!
"I don't have time to wait around for responses, everyone has their phone on them, it shouldn't take you more than a day to get back to me…even if your out of the country, check your email!"
1. No matter where you live, don't think you can miss a single party – whether it is in Vail, Las Vegas, New York, Connecticut or Timbuktu.
"Ever since I could remember I have dreamed about this day all my life. I want to share it with the people that are most important to me. So please, what's stated above think about it all and by Wednesday I need to know if everyone is 100 percent.
"If you don't think you'll be able to attend one party but can make the rest of them I'm sorry but I'll have to take you out as a bridesmaid and put you as a guest."