Sharon Osbourne Opens Up About Jack's Wedding: 'It Was Intimate, It Was Beautiful'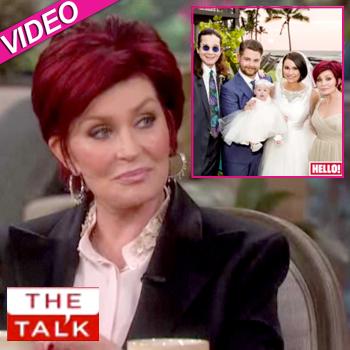 By Amber Goodhand - RadarOnline.com News Editor
Jack Osbourne married his baby mama and long-time girlfriend Lisa Stelly recently in Hawaii and his mother, Sharon Osbourne, talked about it Monday on her show The Talk.
"It was picture book perfect. It was perfect. It was a small group of people…it was under 50 people. Family and your handful of really, really close friends," Sharon said.
"Everybody that attended the wedding, Jack's friends and family obviously have know him all his…his best man was a guy he's known since he was two years of age. They went to pre-school together, in the UK! It was intimate, it was beautiful. "
Article continues below advertisement
Sharon told viewers she was a blubbering mess on his wedding day, which even had her daughter-in-law wondering if they had her blessing.
"I started to cry from nine in the morning, and the wedding wasn't until six! I was trying to find some eye makeup because they were all gone and swollen," Sharon joked.
"Lisa said to me after the wedding…yes, my daughter-in-law said to me, 'Are those tears of joy?'"
And in case you were wondering, Sharon revealed that Jack wrote his own vows and she couldn't have been any prouder of the man he's become.
"When he was reading his wedding vows…he'd written this whole two pages and as he was reading them to Lisa I got more and more choked up and I'm thinking, 'My goodness me, what a man he is. What a great man,'" Sharon said.
"I can't share too much but what he did say was in one of the vows, he said that when he comes home at night and he goes into his house and he sees his daughter and his wife, he's never felt so happy in his entire life as to see their faces."