Jack Osbourne Calls 'Bull-F**king-Sh*t' On NBC Claim They Didn't Fire Him Over M.S. Diagnosis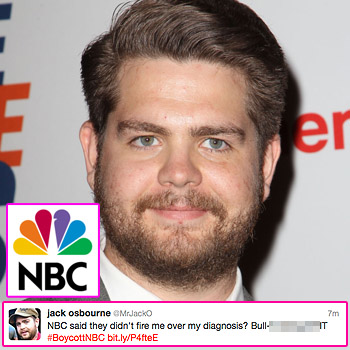 By Amber Goodhand - RadarOnline.com News Editor
Jack Osbourne isn't happy that NBC fired him and he's convinced he was fired for all the wrong reasons.
Jack's mom, Sharon, started the blast against NBC earlier this week when she resigned as a judge on America's Got Talent after seven seasons.
"I just can't be fake ... it's discrimination, and it was badly handled ... it's time to move on," the 59-year-old told the New York Post.
Article continues below advertisement
But NBC immediately released a statement on Tuesday stating that Jack wasn't fired because of his multiple sclerosis diagnosis in June, and that the network "does not discriminate on any basis."
Jack isn't buying it.
On Tuesday afternoon the 26-year-old tweeted, "NBC said they didn't fire me over my diagnosis? Bull-F**king-SH*T #BoycottNBC."
Jack was slated to appear on Stars Earn Stripes, a military-themed reality show featuring Dean Cain and Nick Lachey, according to Sharon, but producer David Hurwitz said the pact was never finalized.
"He was somebody we were in talks with," Hurwitz said.
NBC offered to pay Jack's salary for the show, Sharon said, but that wasn't the point.
"I took part in a 16 hr challenge over 30 miles with a 40lbs ruck on my back in Jan," Jack tweeted on Tuesday, proving his point that he could endure the physical reality show.
"I had MS then. Don't tell me wot physically demanding is."
RELATED STORIES:
NBC Responds To Sharon Osbourne's Slam: 'This Network Does Not Discriminate On Any Basis'