Bobbi Kristina And Nick Gordon Race To Aid Heart Attack Victim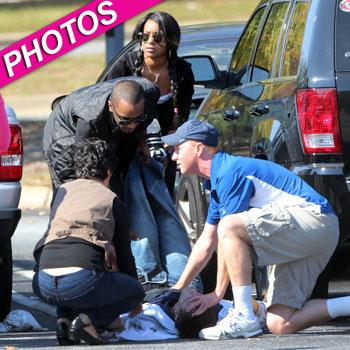 Bobbi Kristina Brown and her fiancé Nick Gordon sprung into action to help a heart attack victim near Atlanta Saturday, and RadarOnline.com has the photos.
The daughter of Whitney Houston and Bobby Brown and her boyfriend have rarely been in the news for anything positive, but their actions today could change that.
The two were standing at an ATM in a mall parking lot in suburban Roswell, Georgia when they they were flagged down by a distraught driver whose family member appeared to be having a heart attack.
Article continues below advertisement
The pair raced to the car, and Nick pulled the gravely ill man out of the vehicle, placing him on the ground.
Bobbi Kristina elevated his legs in a move to help blood flow to his brain.
The young couple, clearly distressed, stayed with the man and his family until paramedics arrived.
Nick Gordon was raised almost as Bobbi Kristina's brother after Whitney Houston took him in, making his romantic relationship with Bobbi Kristina controversial from the start.
Whitney died February 11, and earlier this month her mother Cissy filed a request with the court that Houston's assets not yet be distributed to the 19-year-old Bobbi Kristina, alleging "she is is a highly visible target for those who would exert undue influence over her inheritance and/or seek to benefit from respondent's resources and celebrity."
Bobbi Kristina is estranged from her father who had a short stint in rehab in August.