Whitney Houston Estate Concerned About Payments To Bobbi Kristina, Fear She's Under 'Undue Influence'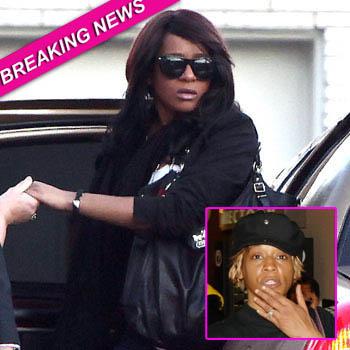 Article continues below advertisement
DOCUMENTS: Trustees Of Whitney Houston's Estate Request Bobbi Kristina's Payment Schedule Be Changed
The trustees are concerned because the schedule of distribution from Whitney's estate would conflict with her "intent to provide long-term financial security and protection for her child. Compliance with the provisions of the trust would defeat or substantially impair the accomplishment of the purposes of the trust, which were to provide for the proper maintenance and comfort of the respondent, and to prevent the wasting of trust assets, as evidenced by the trust's spend thrift provision," the petition states.
As previously reported, Bobbi Kristina and her "brother boyfriend" Nick Gordon walked the red carpet at the Los Angeles premiere of Sparkle recently and both were sporting new tattoos on their wrists - "WH" surrounded by doves. The pair got the ink done on what would have been Whitney's 49th birthday.
Bobbi's father Bobby Brown recently entered rehab after an extended period of boozing in reaction to Whitney's death, and his estrangement from his talented teen daughter.
Article continues below advertisement
Bobbi Kristina is the sole beneficiary of Whitney's estate. Houston died on February 11 after she was found unresponsive in the bathtub of her hotel room at the Beverly Hilton Hotel. The coroner determined that Houston died of an accidental drowning.
Bobbi Kristina is currently filming her reality show The Houston Family Chronicles, which debuts later this year.
RELATED STORIES:
Bobbi Kristina Brown Talking Marriage With 'Adopted Brother'