Go Large Or Go Home! Big Ang Flaunts Her Very Ample Curves And Opens Wide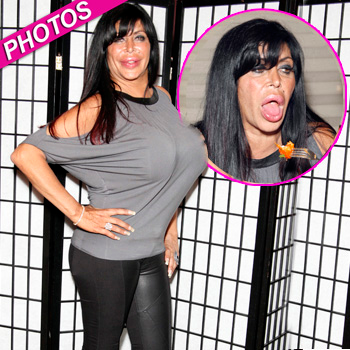 Article continues below advertisement
While most Hollywood stars avoid being photographed eating, the reality star clearly isn't bashful about feasting in front of flashbulbs, opening wide and shoving food in her mouth at The Coastline restaurant.
Earlier this year, Big Ang exclusively admitted to RadarOnline.com that she is "obsessed" with plastic surgery.
"My boobs were so big after I gave birth, I was a 42 triple J so I had to do something," Ang explained. "After I had the baby my boobs were dead. They just were prunes down to my waist. After my first surgery, I had them redone in 1995. They took the sponges out and put in saline implants. I had a double 36 double D when I was only 14 years old, so I have always had a big chest."