How The Other Half Live! Take A Tour Of The Tech Industry Billionaire's Massive Mansions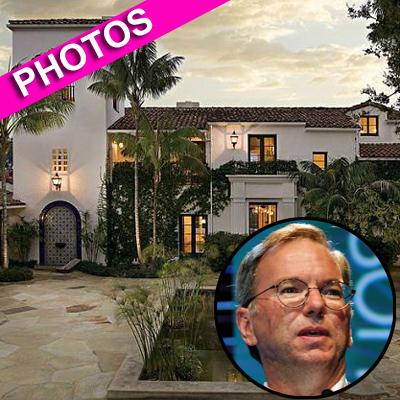 By Debbie Emery - RadarOnline.com Reporter
Having made millions on the Internet, what better way to make an even tidier profit than with savvy real estate investments?
While they may be buttoned-down and conservative in the boardroom, these self-made billionaires aren't afraid to splash out on their homes and live big! With the tech industry currently booming, a number of it's leaders have recently splurged on some exciting new housing purchases that would make the hottest Hollywood stars swoon with envy, reported Business Insider.
Article continues below advertisement
Over just the past 18 months, Zynga CEO Mark Pinchus purchased a mansion in San Francisco for $16 million, Russian tech investor Yuri Milner splashed out on a chateau-style mansion in Silicon Valley for a record $100 million, and Oracle CEO Larry Ellison bought an entire Hawaiian island for the bargain price of $600 million.
From Bill Gates' Xanadu 2.0, to Twitter creator and founder Jack Dorsey's San Francisco waterfront mansion, RadarOnline.com is taking a sneak peek at the most wonderfully opulent and sometimes wacky homes of the world's richest tech moguls.
25. Marissa Mayer - The glamorous blonde CEO of Yahoo! Marissa Mayer has a home in the heart of Silicon Valley in Palo Alto. Valued at $5.2 million, the modest-looking 5,203-square foot, 5-bedroom, 6.5-bathroom home was the venue for a $30,000 a plate fundraiser dinner for President Barack Obama in October 2010.
24. Mark Zuckerberg - One of the freshest faces in the Internet industry, Mark Zuckerberg, owns a far more low-key house than would be expected of the founder and CEO of Facebook. Located conveniently close to the web sensation's headquarters in Menlo Park, Calif., the 28-year-old lives in a 5-bedroom, 5-bathroom house that he bought in May 2011 for $7 million, which is already worth $600,000 more than he paid for it.
Article continues below advertisement
23. Mark Hurd - Co-president of the Oracle Corporation Mark Hurd has plenty of privacy in his beautiful tree-lined estate in Atherton, Calif.. The majestic 6,410-square foot home had 5 bedrooms, 6.5 bathrooms and cost him $7.8 million when he purchased it with wife, Paula, in 2005.
22. Larry Page - Conveniently for Larry Page, he can use his own software company to map images of his home! The Google CEO and co-founder lives in a far more restrained house than would be expected of someone so successful. Located in Palo Alto, it spans 8,149 square feet, has 6 bedrooms, 6 bathrooms and cost $7 million in 2005. A few years later Page built an eco-friendly house on the same property packed with green elements like a roof topped with solar panels and a rooftop garden, and pervious paving in the parking lot.
21. Carol Bartz - Carol Bartz, the former CEO of Yahoo!, and her husband Bill Marr, a former executive at Data General and Sun Microsystems, doubled their money on their stunning 2,000 square foot home in Atherton, Calif.. Having bought it in 1995 for $4.6 million in 1995, the 4 acre estate is already worth $8.5 million.
20. Sheryl Sandberg - COO of Facebook Sheryl Sandberg's house is even classier than Zuckerberg's! Along with husband Dave Goldberg, she owns a 7,120 square-foot classic-style house in Atherton, Calif. that has 5 bedrooms, 8.5 bathrooms and cost $8 million. Sandberg was still at Google when they bought the property, but since moving to Facebook she has bought land in Menlo Park and is building a new house there.
Article continues below advertisement
19. Gideon Gartner - Over on the east coast, Gideon Gartner of Gartner Inc. sold his magnificent Park Millennium penthouse in New York City for an estimated $29.5 million after deciding to downsize to a more manageable 3,000 square foot apartment in Manhattan's Metropolitan Tower Condominium on West 57th Street. The one-bedroom penthouse reportedly cost a whopping $9.5 million!
18. Jack Dorsey - Twitter creator Jack Dorsey's waterfront mansion in San Francisco is so awesome, it's hard to describe in less than 140 characters! The 35-year-old tycoon is worth an estimated $650 million, so his $9.9 million house is a drop in the (Pacific) Ocean for him. Located in the aptly named Seacliff neighborhood of the northern California city, Dorsey's estate spans more than 3,734 square feet with just 2 bedrooms and 2.5 bathrooms plus a separate, windowed office nook located off the main living area. The most impressive aspect of the house is a retractable glass roof that slides back to show breathtaking views of the Golden Gate Bridge and the Pacific Ocean below.
17. Tom Proulx - He must love the neighborhood! The co-founder of Intuit and chairman of Netpulse, Tom Proulx, owns three adjacent properties on 11 acres on Fletcher Drive in Atherton, Calif., reported Business Insider. His homes are valued at $5.9 million, $2.7 million, and $2.1 million, according to the San Mateo County Assessor's office, bringing the value of the compound to about $11 million.
16. Sergey Brin - Another Google co-founder, Sergey Brin, is bi-coastal with a 3,457 square foot 4-bedroom penthouse in Manhattan's West Village that he bought in 2008 for $8.5 million, and a house near his office in Los Altos, Calif. that cost $7 million for the land alone. Brin's Big Apple zip code is such a hot spot at the moment that realtors estimate he could get at least $11 million for the apartment, which has an impressive 23-foot balcony.
Article continues below advertisement
15. John Chambers - John Chambers, CEO and chairman of Cisco Systems, owns a sprawling 8,280-square foot estate in Los Altos, Calif., that would be every garden-lover's dream. Sitting amid six acres of lush landscaping, the beautiful home boasts 5 bedrooms, a fitness center, sauna, pool and spa, and tennis court. The good news is that if you have $15 million to spare, it is currently on the market!
14. Gary Bloom - The CEO of MarkLogic, Gary Bloom, lives among many of his business cohorts on Isabella Avenue in Atherton, where his 8,500-square foot 4 bedroom, 6 bathroom house is valued at $15.5 million.
13. Mark Pincus - As cofounder of Zynga, Mark Pincus can afford to splash out on a classic San Francisco home that is a slice of history in the northern California city. Built in 1907, the four-story house has 7 bedrooms, 6 full bathrooms and 4 halves and cost $16 million. It also boasts an elevator, eight fireplaces, and large picture windows with great views of the San Francisco Bay on all levels.
Article continues below advertisement
12. Mark Cuban - Many basketball fans forget that Dallas Mavericks owner Mark Cuban made his billions in the tech industry! The NBA mogul became one of the original dot com millionaires when he sold Broadcast.com to Yahoo! for $5.9 billion in 1999. Now devoted to his team, Cuban owns a 24,000-square foot mansion in the Preston Hollow neighborhood of Dallas, Texas, which has 10 bedrooms, 13 bathrooms and is valued at $17.6 million.
11. Tyler and Cameron Winklevoss - The Winklevoss twins are best known by their characters in The Social Network (where they were both portrayed by Armie Hammer), but in real life the pair who famously sued Mark Zuckerberg for stealing their idea for Facebook recently bought a 18,000 square foot bachelor pad in Los Angeles that has stunning views of the city from the furnished pool area.
10. Eric Schmidt - The executive chairman of Google, Eric Schmidt, lives a little south of the Silicon Valley hub in the beautiful area of Montecito, Calif., where he owns a 5,000-square-foot Spanish Colonial-style house with 4 bedrooms and 6 bathrooms, sprawling landscaped gardens, a tennis court, swimming pool and spa, all for the equally opulent price of $20 million.
Article continues below advertisement
9. Sean Parker - The notorious Napster owner and Founding President of Facebook, Sean Parker owns a 7,500-square-foot Manhattan townhouse that is aptly named "Bacchus House" after the Roman god of wine and cost $20 million. The ivy-covered West Village townhouse is located in a historic carriage house, has an indoor pool, private garage, and a landscaped atrium. Parker has decorated the house with impressive artwork, including graffiti-clad walls and subway-themed rooms.
8. Jeff Bezos - Founder and CEO of Amazon.com Jeff Bezos made his own big budget purchase with a 12,000-square-foot Beverly Hills mansion for $30 million. The property features a pool, a sunken tennis court, a gym, a, greenhouse, and a separate guesthouse spread over two acres.
7. Paul Allen - Co-founder of Microsoft and Bill Gates' original partner Paul Allen lives life to the fullest! With a collection of yachts, cars, and even a basketball team (the Portland Trailblazers) to play with, the Internet mogul has plenty of space to keep all his toys at his extravagant homes in Malibu, New York City, and St. Jean Cap-Ferrat in France. However, it is his Seattle mega-mansion that is the most impressive as the 10,000-square foot home features a floating helipad, a dock, and a sprawling front lawn. Allen also owns six adjacent mansions that house members of his family, a full-sized basketball court, fitness center, ballroom, and swimming pool with water slide.
Article continues below advertisement
6. Jim Clark - After moving north from Miami, founder of Netscape Jim Clarke and his wife, Kristy Hinze, purchased a luxurious 9-acre property in the Linden Estate in Southampton area of the Hamptons. The 18,000 square-foot-home has 12 bedrooms, 12 bathrooms, 3 half-bathrooms, a paddleball court, tennis court, pool and fountain, and is estimated at $49 million.
5. Michael Dell - Dell founder and CEO Michael Dell didn't hold back when shopping for a new pad. Along with the contemporary castle he owns in Austin, Texas, the computer mogul escapes the rat race at the "Raptor Residence," his 18,500-square-foot 7-bedroom home on Hawaii's Big Island. Taking into account the 189,704-square-foot waterfront lot that the home is located on, the estimated value is $62 million.
4. Omid Kordestani - Senior Adviser to the Office of the CEO and Founders at Google, Omid Kordestani is classed as the 12th employee at Google and reaps the benefits of it with the coveted address in Manhattan at 15 Central park West. His 5,416-square-foot apartment has 4 bedrooms, 6.5 bathrooms, and a 405-square-foot terrace, and is worth up to $70 million.
3. Yuri Milner - Russian investor Yuri Milner owns one of the most expensive houses in Silicon Valley but unfortunately for him he reportedly overpaid for his $100 million home by millions! The 30,000-square-foot French chateau-style mansion sits on 11 acres in the Los Altos Hills and has sweeping views of the San Francisco Bay. The home has 5 bedrooms and 9 bathrooms, as well as a ballroom, home theater, wine cellar and indoor pool.
Article continues below advertisement
2. Bill Gates - Nicknamed Xanadu 2.0, Microsoft's Bill Gates' sprawling mansion in Medina, Wash. covers an outstanding 66,000-square feet and boasts incredible high-tech features like a pool with an underwater music system, a 2,500-square-foot gym, a library with a domed reading room, a 1,500-square-foot Art Deco style theater, and heated floors and driveways. Gates' guests wear computerized pins that the intelligent house - that is valued at $121 million - can actually read, and then adjust music, lighting and climate settings to their preference.
1. Larry Ellison - Billionaire Larry Ellison wasn't satisfied with just buying a property on the island of Lanai – he bought up 98 percent of the Hawaiian atoll! Estimated to have cost $500 to $600 million, the co-founder and CEO of Oracle now owns one of the most expensive private islands in the world since making the big ticket purchase last June. Ellison has a net worth of approximately $36 billion according to Forbes. He also owns or has owned noteworthy properties in Malibu, San Francisco, and Woodside, Calif.