Wikipedia Goes Black For 24 Hours To Protest Anti-Piracy Legislation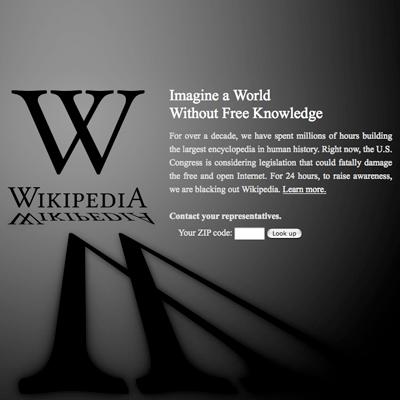 Information seekers surfing the net will have to do without the treasure trove that is Wikipedia Wednesday.
The English version of the popular online encyclopedia has gone dark, in response to legislation brewing in Congress website officials say would have serious ramifications for anyone who goes online.
"If passed," the Wikimedia foundation said, "this legislation will harm the free and open Internet and bring about new tools for censorship of international websites inside the United States."
Article continues below advertisement
The motions in question -- the Stop Online Piracy Act circulating through the the U.S. House of Representatives, and Protect Intellectual Property Act swirling around the Senate -- are strongly supported by the entertainment industry, while opposed by tech giants like Facebook, Yahoo, Twitter, eBay, AOL and Google, who blacked out their logo in support of the one-day statement.
The Stop Online Piracy Act, specifically, would give the government the right to "blacklist" websites believed to be purveyors of illegally-uploaded content.
Wikipedia founder Jimmy Wales told the AP the proposed legislation amounts to "just a poorly designed mess.
"I am personally asking everyone who cares about freedom and openness on the Internet to contact their Senators and Representative," Wales said. "One of the things we have learned recently during the Arab spring events is that the Internet is a powerfully effective tool for the public to organize and have their voices heard."
The website re-opens Wednesday at 9 pm PT.
RELATED STORIES: