Exclusive
Scientology Screened 'At Least Two Dozen Women' For Tom Cruise, Set Him Up With Another Beautiful Actress!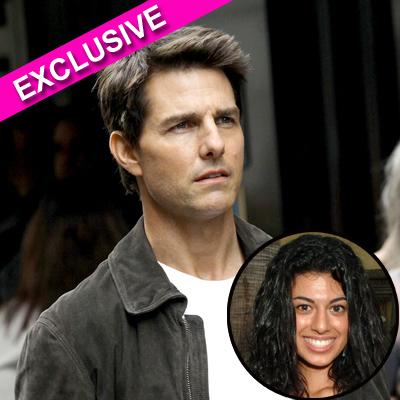 By Jen Heger - RadarOnline.com Assistant Managing Editor
The Church of Scientology screened at least two dozen women to date Tom Cruise after his divorce from Nicole Kidman, including unknown actress and fellow church member, Yolanda Pecoraro, who made the cut and was fixed up with the actor, RadarOnline.com is exclusively reporting.
"The Church screened at least two dozen women to date Tom Cruise after his divorce," a source close to the situation tells RadarOnline.com. "Tom had very specific demands about the type of woman he was interested in, including long dark hair, olive complexion and preferably an actress. Of course, he wanted her to preferably be a Scientologist too. The Church did set Cruise up with Yolanda Pecoraro and they dated in the summer of 2004, after his very public split from Penelope Cruz. The relationship with Yolanda lasted a few months, but Cruise grew bored with her, and wanted to date an actress that was known to the public."
Article continues below advertisement
As previously reported, a bombshell new report in Vanity Fair claims that Shelly Miscavige, the wife of Scientology leader David Miscavige, headed up the task of finding Tom an appropriate mate. Candidates were reportedly told they were auditioning for a new training film and were asked a series of questions including "What do you think of Tom Cruise?"
Iranian-born actress and longtime Scientology follower Nazanin Boniadi was the winner in the girlfriend derby, according to Vanity Fair, and went on to date Cruise from November, 2004 to January, 2005.
Boniadi had to reportedly sign multiple confidentiality agreements and ended up falling head-over-heels for Cruise. But in short order, he decided she wasn't up to the task, sources told Vanity Fair, and complained to her, "I get more love from an extra than I get from you."
According to the report, the final nail in the coffin of their short lived union was when Boniadi was perceived to have disrespected Miscaviage, after not being able to follow what he was saying (he reportedly has a very rapid speech pattern).
Article continues below advertisement
According to Vanity Fair: "Anything Nazanin said or did that Cruise found fault with he immediately reported to a member of the Scientology staff, and she would be audited for it. This began with her very first words to him, 'Very well done,' regarding his receiving Scientology's Freedom Medal of Valor. The phrase implied that Cruise was her junior. According to the knowledgeable source, Boniadi also offended Scientology chief David Miscavige, who speaks rapidly, because she kept saying, 'Excuse me?' when she was entertaining him and his wife during a visit to Telluride. In Scientology, the ability to have your communication 'land' is crucial. Boniadi was excoriated by Cruise for disrespecting Miscavige."
The Church of Scientology and Tom Cruise have vehemently denied the allegations in the Vanity Fair story, branding the report as "a rehash of tired old lies."
Calls seeking comment to Tom Cruise, Yolanda Pecoraro and the Church of Scientology were not returned at time of posting.
A Scientology spokesperson released a statement to RadarOnline.com: "This whole 'audition' story is a recycled tabloid story that first appeared four years ago, starting with Marc Headley feeding the story to Andrew Morton for his failed unauthorized biography of Tom Cruise.
Article continues below advertisement
"The Church has never conducted 'auditions' (or otherwise) to find a bride for a celebrity (or anyone else). Never. The Scientology religion does not have a 'soul mate' as part of its religious doctrine and we explain how becoming a parishioner can improve marriage through the religion on our FAQs at www.scientologynews.org.
"As we have said, the entire story is hogwash. It is sourced to Marc Headley who originally said in 2009 he never saw any 'auditions' but 'heard about it.' Later he said he shot the videos and most recently he told Vanity Fair he was the 'head' of the studio, yet another lie. (Maybe he will soon be the President of the United States — but save that for another article.)
"He is lying as is the rest of the small group of anti-Scientology apostates who are admitted liars and suborners of perjury who have been making up stories for years. This was an orchestrated, coordinated media hit. These are simply invented statements designed to generate pseudo 'bombshell' articles like Vanity Fair's and reactions like yours. These are interconnected sources with a propensity to lie. Evidence for this exists in a year-old Church publication that was provided to Vanity Fair and which exposes these sources as self-corroborating liars beginning on page one. You can see it immediately at www.freedommag.org. RadarOnline.com is authorized to use the artwork and quote from the Freedom to accurately report on your 'exclusive' sources."