Tom Cruise Had His Staff Dump Nazanin Boniadi After She 'Insulted' David Miscavige, Claims New Report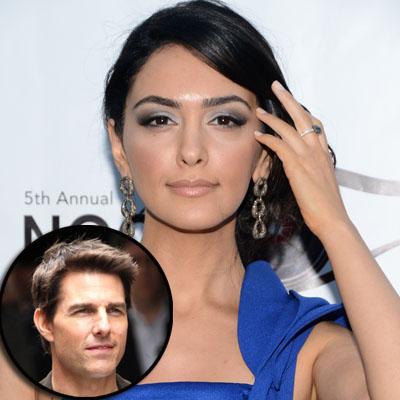 Tom Cruise never actually told prospective wife Nazanin Boniadi they were finished: he had his staff do so, according to the controversial new Vanity Fair article chronicling the enigmatic actor and his ties to the Church of Scientology.
In the story, author Maureen Orth says that Cruise took Boniadi, a stunning actress seen on General Hospital and How I Met Your Mother, on a "dream date" in New York in October 2004, complete with an Empire State Building tour, sushi at swanky Nobu and ice skating at (a vacated) Rockefeller Center.
Article continues below advertisement
The date -- which was carefully constructed based on answers the Iran-born stunner gave in her Scientology audit -- went so well, the Vanilla Sky star reportedly told her, "I've never felt this way before," at the end of the night.
By a month later, however, Tom reportedly already had his fingerprints all over Boniadi's personal affairs, as he wanted her to get a tooth shaved down, while her mother was having increasing trouble contacting her. The short-lived relationship became just that at the beginning of 2005, when Boniadi was denied painkillers after injuring herself in a snow mobile accident with Cruise in Telluride, Colorado.
At some point during the trip, Boniadi committed an insulting slight toward Scientology head/Cruise confidante David Miscavige, which effectively put the Top Gun star off the beauty... for good.
According to Vanity Fair: "Anything Nazanin said or did that Cruise found fault with he immediately reported to a member of the Scientology staff, and she would be audited for it. This began with her very first words to him, 'Very well done,' regarding his receiving Scientology's Freedom Medal of Valor. The phrase implied that Cruise was her junior. According to the knowledgeable source, Boniadi also offended Scientology chief David Miscavige, who speaks rapidly, because she kept saying, 'Excuse me?' when she was entertaining him and his wife during a visit to Telluride. In Scientology, the ability to have your communication 'land' is crucial. Boniadi was excoriated by Cruise for disrespecting Miscavige."
Article continues below advertisement
She was reportedly flown back to Los Angeles with Cruise's staffers, who told her to leave his home immediately upon returning.
As RadarOnline.com previously reported, the actress was then punished by being sent to live at the Scientology Center in Florida. According to the Vanity Fair report, while at the center she spoke about her relationship with Cruise to a "friend' who then reported her to officials, and that's when the "real" punishment started.
The article alleges that Nazanin was forced to scrub toilets with a toothbrush, clean bathroom tiles with acid and dig ditches in the middle of the night for up to 14 hours at a time. After her alleged punishment was over Nazanin and her mother were reportedly forced to sell copies of Hubbard's book Dianetics on street corners.
The Church of Scientology has dismissed the report as "a rehash of tired old lies."