Rielle Hunter Aspen Hideout For Sale At $20 Million: Take A Peek Inside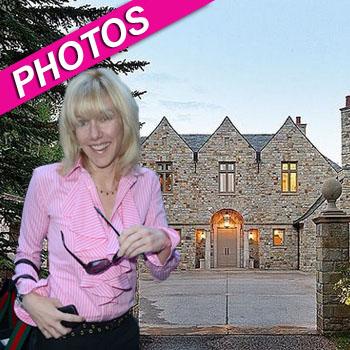 If you had to pick a place where you could lay low while your married lover ran for president, a five-bedroom mansion is a good place to start!
And now we're getting a look at the massive Aspen, Colorado home where Rielle Hunter hid out in 2008 while John Edwards made his bid for the White House. The posh home is on the market for jaw-dropping $19.95 million.
Fred Baron -- a major Democratic Party donator who died in October that year -- offered the palatial property as a hideaway for the former senator's mistress.
Article continues below advertisement
Nestled on 3.95 acres the single family home features eight bathrooms (five full and three half), an indoor pool, a hot tub, a sauna, a gym and a three-car garage.
The French country-style estate is the creation of celebrated architect Robert A.M. Stern and was built in 1994.
Boasting a gourmet kitchen, an office, a library, a billiards room and a racquetball court, would-be residents are spoiled for choice when it comes to how to divide their time.
Baron also filled his vacation home with furniture, antiques, rugs and art worth millions of dollars. Chandeliers hang from the ceilings and there is even an observatory with a telescope, where guests can gaze at the stars.
Covering nearly 14,000 square feet, the property costs $1,432 per square foot. The gorgeous estate – which will forever be associated with political scandal – is available for private viewings only.