Reese Witherspoon Lists Her Ojai Home For $10 Million: Take A Peek Inside!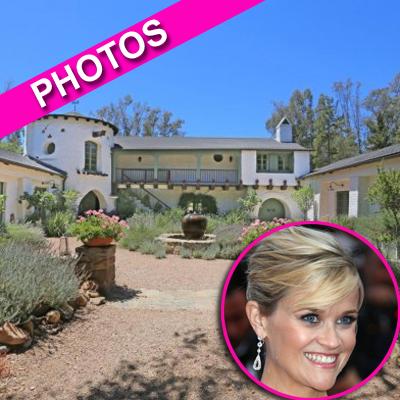 Article continues below advertisement
Now Pattinson's Water For Elephants costar Witherspoon is expecting her third child, she is ditching her California getaway at an asking price of $10 million.
Listing agent Billy Rose describes the atmosphere of the opulent area as "like you're in the country and you're away from it all," reported Zillow.com. "It's a place that people don't care; there's not the same sort of celebrity attraction that we have here (in L.A.) with the vans and buses with people who want to go look at houses that people lived in 40 years ago.
"I think that you can be much more of a normal person up there," he explained.
The property was originally built as a stable for Edward Libbey, the glassware magnate who is also considered the modern founding father of Ojai, and was subsequently owned by Ghostbusters star Harold Ramis and then designer Kathy Ireland, who fully remodeled the house.
When Oscar winner Reese bought it in 2008, she did more enhancements but kept the historic charm of the ranch, which sits on seven acres and has a 4-bedroom, 3.5-bath main house, barn, horse stables and carriage house.
Article continues below advertisement
The beautiful grounds outside feature an organic garden, acres of pasture and a swimming pool, and provided the idyllic location for the Legally Blonde star's wedding to Jim Toth last March.
Inside, the main house is light and bright with original stonework, plank flooring and Spanish-tiled details.
"All of the structures feel solid and that they've been there for centuries," said Rose. "They've been part of the land. You can just soak up the authenticity and the richness, the character of the home."