Exclusive
Robert Pattinson Out Of Hiding -- Rocking Out At Ojai Cowboy Bar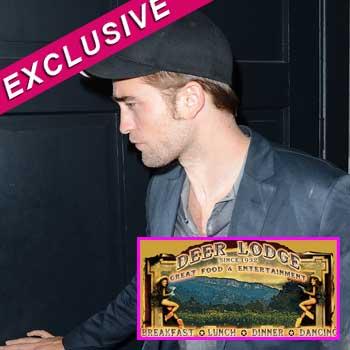 Robert Pattinson's friends tried to get his mind off girlfriend Kristen Stewart cheating on him by taking him to a cowboy dance and music club Friday night, RadarOnline.com is exclusively reporting.
He was spotted at The Deer Lodge in Ojai, CA, 90 minutes from the home he used to share with Kristen.
"I've been told by several people that Robert Pattinson was here enjoying the music with his friends. He seemed in good sprits," a Deer Lodge employee, who asked that his name not be used, tells RadarOnline.com. "I wasn't on that night so I didn't personally see him, but several others did."
Article continues below advertisement
As RadarOnline.com reported, Pattinson has been staying at his Water for Elephants costar Reese Witherspoon's Ojai ranch.
The Deer Lodge has been a popular local hangout for decades, offering live music, dancing and lots of beer and good times.
"Awesome night in Ojai. Got to hang with a rowdy bunch of Brits & one of them happened to be Edward," a fellow patron tweeted after bumping into the star - who plays Edward Cullen in the popular Twilight movies - at the lodge.
"He wasn't moping and the girls were definitely just his friend," she continued. "The girls were drunk and literally danced on the floor.
"The girls were nice. I stood next to them at the bar. He wasn't drunk. Just taking in the scene. Smoked next to him outside."
The lively establishment was playing host to indie band The Lonely Wild who are a small group from L.A.
In addition to being an A-list actor Pattinson is also a musician who plays the guitar, piano and composes his own music. He even sang on the Twilight soundtrack.
Article continues below advertisement