Media Blitz Surrounding Prince Harry Arrival In Afghanistan Makes Him Al-Qaeda Target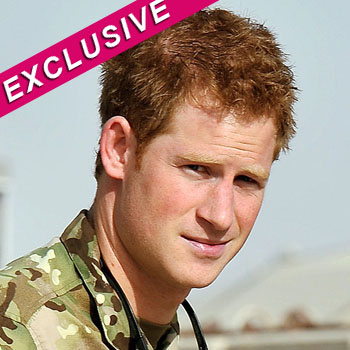 By Jon Boon - RadarOnline.com Reporter
Prince Harry's latest PR exercise may have spectacularly backfired, RadarOnline.com is exclusively reporting.
Clarence House set up a photo call for the Party Prince's arrival in Afghanistan for army duty to distract the public from his now infamous naked romp in a Las Vegas hotel suite.
However, the move has made Harry, 27, a target for the al-Qaeda terrorist organization - back in 2008 the royal rebel was hauled out of Afghanistan when his first tour of the country ended in farce when an Australian magazine broke a media blackout which compromised his safety!
Article continues below advertisement
"Clarence House has scored a spectacular own goal by revealing Prince Harry is in Afghanistan," a source said.
"They wanted to nip the Las Vegas nude photo scandal in the bud, so they decided to show the Prince returning to war – it was a ploy to make him appear heroic and make the public forget about his infamous strip.
"The problem is, that has alerted the enemy to his whereabouts – al-Qaeda knows where he is and that's a very dangerous tactic.
"Prince Harry first went to Afghanistan quietly, back in 2008. All the UK press was informed by Clarence House and both parties agreed to a media blackout for his own safety.
"However, that agreement was controversially broken by Aussie gossip magazine New Idea – and after they revealed he was serving with the British army in Afghanistan, Harry was rightly rushed back to Britain.
"One has to wonder if the royal family's PR team have made another gaffe with this latest revelation," the source revealed.
Article continues below advertisement
As RadarOnline.com previously reported, Harry was deployed to Afghanistan for four months, the Ministry of Defense announced Friday.
Captain Wales - as he is known in the military - arrived Thursday night at the main British base, Camp Bastion in Helmand, and on Friday morning, he visited the base's flight line to inspect the Apache helicopters he is likely to fly. An accomplished Apache pilot, the 27-year-old royal will take part in combat missions against the Taliban. He's part of the 100-strong 662 Squadron, 3 Regiment, Army Air Corps.
Royal Navy Captain Jock Gordon, Commander of the Joint Aviation Group, said: "Captain Wales, with his previous experience as a Forward Air Controller on operations, will be a useful asset.
"He will be in a difficult and demanding job. And I ask that he be left to get on with his duties and allowed to focus on delivering support to the coalition troops on the ground."
RELATED STORIES:
Prince Harry's Las Vegas Kiss & Tell Girl In Jail, Busted For Fraud