Potty Mouth Paula Deen Lets Loose In Secret Blooper Reel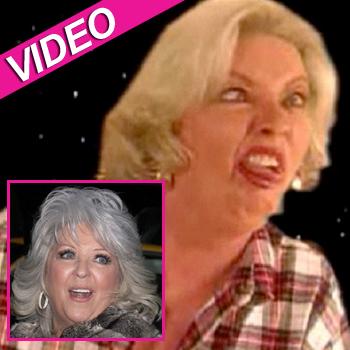 "You ever smelled a stinky coochie?"
That's the question TV chef Paula Deen asked on the set of her show Paula Deen's Home Cooking in a secret blooper reel that has surfaced.
In the tape obtained by The New York Post, the Southern cook turns her nose up at a dish she's cooking, proclaiming it smells like "stinky coochie."
Deen's naughty quote is just one in a series of X-rated comments she makes on the tape.
Article continues below advertisement
And while she can be heard screeching the words "sh**" and "motherf***er," she is also seen simulating oral sex with a chocolate éclair!
The two-minute tape was all too much for one man – Gary Ravet, the president of Celebrity Chefs Tour, which puts on a series of live events featuring TV cooks.
Potty-mouthed Deen had contracted to go out on the tour and put together the blooper reel to be played for the live audiences as an introduction before each of her appearances.
MORE ON:
Celebrity Justice
DOCUMENTS: Read The Explosive Lawsuit Against Paula Deen Enterprises (WARNING OFFENSIVE LANGUAGE)
But Ravet rejected it saying: "We found it to be unacceptable because it's certainly not family content."
Deen ultimately backed out of the 10-city tour and then sued the company for $1.25 million claiming a check they gave her bounced.
Ravet countersued for $40 million citing breach of contract. He argued the chef was required to provide a "blooper reel" but they were disappointed her film was "laced with expletives."