Paula Deen Calls Anthony Bourdain 'Very, Very Cruel'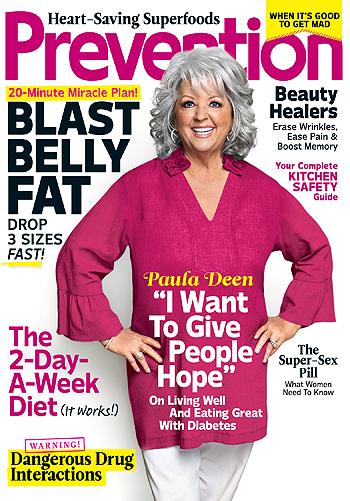 By Amber Goodhand - RadarOnline.com News Editor
When food enthusiast Paula Deen revealed she has type 2 diabetes many of her fans were shocked and appalled that she waited three years to go public with the news, and fellow foodie Anthony Bourdain didn't hold back on his opinions.
But now it's Paula who's not holding back in a new interview with Prevention magazine, saying she found his comments "very, very cruel" and noted it was "awful, because people out there with diabetes haven't chosen this."
Article continues below advertisement
Shortly after coming out with diabetes, Paula partnered with the diabetes care company Novo Nordisk, to which Anthony tweeted, "Thinking of getting into the leg-breaking business, so I can profitably sell crutches later."
"My team told me of his statement that I was the most evil dangerous woman in America. I thought, 'Oh my gosh, what hospital did he just get out of?' And I did hear he was going to break his leg to sell crutches, which I thought was awful, because people out there with diabetes haven't chosen this," Paula told Prevention.
"I thought that was very, very cruel. But I really don't know nor do I care. I don't know the man. I've never shared a meal with him."
Paula even pokes at what she calls Anthony's "demons" saying, "Everybody has a right to their own opinion. And I can't change his opinion, nor would I try. I wish him the best. I just do. I don't wish anything bad on anybody. I know he's had his demons, and I hope they're under control."
Article continues below advertisement
And someone Paula doesn't mind being made fun of by? The folks at Saturday Night Live!
"The girl who has played me a couple times — Kristin Wiig, who did Bridesmaids — I think she is brilliant. She is the most talented female that's been on Saturday Night Live since Gilda Radner. Like I said, it made me laugh, because to me it was so tongue in cheek. I never miss an opportunity to laugh, even if it's at myself. I need to send her a thank you note," Paula said.
"I want to be on Saturday Night Live so bad I can hardly stand it. I think it would be a hoot."
Not a laughing matter is the lawsuit that Paula and her brother Bubba Hiers were slapped with last month by a former employee of Paula Deen Enterprises, who claimed the southern chef used the N word and her brother displayed shocking patterns of racism and sexual assault.
Lisa Jackson, of Georgia, was seeking a $1.25 million settlement before eventually filing with the court system.
Article continues below advertisement
"Right now we don't have an army of witnesses, but they're there and in due time… We do have employees who have left the Paula Deen family of business and will be testifying," Lisa's attorney Wesley Woolf exclusively told RadarOnline.com.
"But many out of fear will not come forward until we subpoena them to come forward."
Paula's full interview with Prevention comes out in their May issue, hitting newsstands Tuesday, April 3.