Exclusive
Katy Perry 'Dangerously In Love' With John Mayer, Friends Fear It Will End In Tears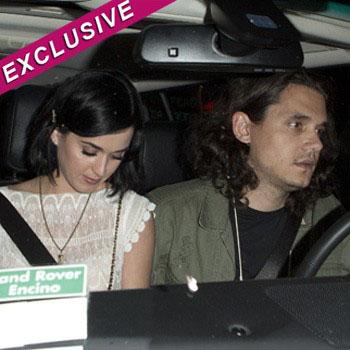 By Jon Boon - Radar Reporter
Katy Perry has fallen head-over-heels for John Mayer, but as far as her friends and family are concerned the relationship is headed for disaster, RadarOnline.com is exclusively reporting.
The Wide Awake singer,27,is absolutely smitten with the 34-year-old legendary ladies' man, despite initially wanting to keep their relationship more casual.
However, friends have told Katy that he could drop her at any minute -- just like he already did after just weeks of dating -- and have told her to quit the relationship now before she becomes too attached.
Article continues below advertisement
EXCLUSIVE: John Mayer In Club During Stabbing!
"Katy's friends and family haven't taken to John at all, in fact they are worried that she is headed for heartbreak," a source reveals. "She's been telling everybody who cares to listen how great John is and it's clear that she is totally in love with him.
"At first, she was quite careful with John and said she wasn't ready for a relationship and just wanted to have fun. But now she appears to have fallen dangerously in love with him and her friends are concerned.
"Despite the fiery image Katy likes to present, she's actually more fragile than that, and when John dumped her a few weeks after they first got together she was devastated.
John Mayer Cancels Tour Over Health Crisis
"Now that she has invested more feelings in John and has let her guard down, there's only one way this can end… in disaster!" the source predicts.
As RadarOnline.com previously reported, the pair was spotted having a romantic dinner at the Little Door restaurant in Los Angeles in early September -- two weeks after splitting.
Article continues below advertisement
Mayer managed to snare Perry by claiming he's a changed man. The Grammy-Award winning singer confessed that he realized his womanizing ways made him look like a douche and that he is a different person now.
PHOTO: John Mayer Out And About
"John has had his eye on Katy for a while and he had to try and convince her that he was right for her," a source previously told Radar. "The best way he thought he could do that was by dispelling his past reputation as a lothario.
"He's never been short of female attention in the past and has always been quick to milk that at every given opportunity. But John realizes now that it made him appear a bit of a douche bag and an unattractive catch.
"He knew he had to change his ways if he ever wanted to get serious with somebody and he had a heart to heart with Katy, telling her he was desperate to change his ways.
"Katy believed him and now their relationship is moving on. She wants to visit his home in Montana and has slowly warmed to the idea that he's boyfriend material," a source revealed.