Exclusive
Two Thumbs Up! June Shannon Says No Surgery Yet For Baby Kaitlyn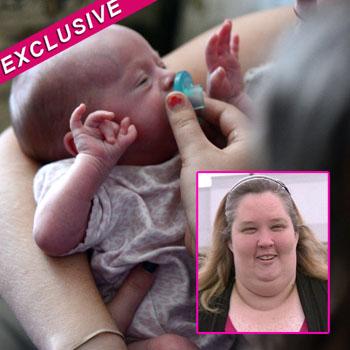 Article continues below advertisement
"The doctor doesn't want to do anything right now because they don't know the full function of the other thumb or if they're both connected," June tells RadarOnline.com.
"They just have to wait and see. They don't want to do it too early, if they cut one off the other could have paralysis or it could make the other fingers not work, so they don't want to make any rash decisions."
Two-month-old baby Kaitlyn is the apple of her grandmother's eye and her birth will be part of Here Comes Honey Boo Boo this week.
"She's just special; I would never make fun of her. That is not right. It makes her more unique and special to us. We don't even pay attention to it. We don't make a big deal about it," June says — going on to say they're not going to do anything about the double thumbs in the foreseeable future.
"It will be awhile before we go back to the surgeon."
The season finale of Here Comes Honey Boo Boo airs Wednesday at 10/9c on TLC.