72-Year-Old Former Police Officer Found Guilty Of Murder Of 7-Year-Old Girl, 55 Years After Crime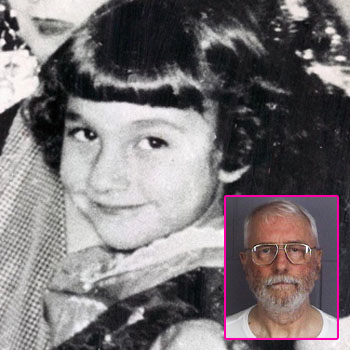 Former police officer, 72-year-old Jack McCullough, who had been charged with the 1957 kidnapping and murder of 7-year-old Maria Ridulph was found guilty on all counts in an Illinois courtroom Friday, bringing to close one of the oldest unsolved murder cases in U.S. history, RadarOnline.com is reporting.
On a cold December night in 1957, in Sycamore, Illinois 60 miles outside of Chicago, two little girls, Maria Ridulph and her friend Kathy Chapman, who would, years later, become a star witness for the prosecution, were playing outside when they were approached by a young man who called himself "Johnny."
Article continues below advertisement
"Johnny" asked the girls if they wanted piggy back rides. The girls obliged. Kathy went to get her mittens, only to return to find that both the young man and her friend were gone.
McCullough was 17 at the time of the disappearance and went by the name of John Tessier. He had been on an initial short list of suspects originally alibi'ed out, claiming that the day the girl disappeared, he had been on a train to Chicago, where he was to get a physical before joining the Air Force.
The longer Maria was missing, the more attention the case gained, ultimately even catching the eye of President Eisenhower and FBI director J. Edgar Hoover, who demanded daily updates on the investigation.
Then in 1958, the remains of a young girl were found near Galena in Jo Davies County. It was Maria.
Shortly there after, the case went cold, John Tessier changed his name to Jack McCullough and joined the army, ultimately landing a job as a police officer in Washington where he remained until 2011.
Article continues below advertisement
His world began to cave in around him after an old girlfriend came forward with an unused train ticket from the train that McCullough was supposed to have been on the day that Maria disappeared.
McCullough was promptly arrested at a nursing home where he worked as a security guard and was charged with kidnapping and murder.
Testimony for the trial lasted for four days. Often times emotions were as raw as they had been in the cold December in 1957 when Maria disappeared. McCullough opted for a bench trial instead of a jury.
In his opening statement, DeKalb County State's Attorney described the night young Maria went missing. "This ordinary night would end in horror. It would end with this defendant dumping her body in the cold, dark woods like a piece of garbage."
On the stand, McCoullough's teary-eyed half-sister told the court that on the day of her mother's death, guilt-ridden and lucid, she grabbed her daughter's wrist and said "Those two little girls… The one that disappeared? John did it."
Article continues below advertisement
However, no testimony was more damaging to the defense than that of Kathy Chapman. Kathy, who had been with Maria moments before she disappeared, when faced with several black and white photos of similar looking men from 1957, immediately identified McCullough as "Johnny."
The damning testimony in conjunction with the fact that his alibi had been blown ultimately led Judge James Hallock to a guilty conviction, putting away a killer who had been free for far too long and offering Maria's family the much needed closure that had been many years in the making.