Florida Prosecutor Says Trayvon Martin's Parents 'Deserve Answers'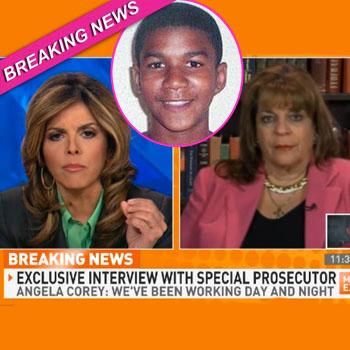 Article continues below advertisement
As RadarOnline.com previously reported, the 911 call that Zimmerman made has been sent to FBI headquarters to determine if he uttered a racial slur under his breath.
AUDIO: George Zimmerman 911 Call
During the 911 call, there has been speculation that Zimmerman uttered the racial slur, under his breath, " f*king c**ns" after he tells the dispatcher that Martin was heading towards the back entrance of the gated community. Zimmerman also allegedly says, "these a**holes always get away."
Corey told Jane Velez-Mitchell in a preview clip of the interview that airs Monday, "I have assigned my two top prosecutors to this case, and they have been in Sanford on Friday, and they are back down there today....We have done nothing but work on it, pretty much full time since Thursday night. I have two of my best prosecutors on it and they will be conducting a full witness investigation and having physical evidence sent off their investigation."
Article continues below advertisement
"Trayvon's parents deserve answers and we are going to try and give them those answers in a timely fashion...we do believe that when we are done with our investigation, the family will know all the facts and details as will the public, but they must be patient," Corey asserted.
Tune in to Jane Velez Mitchell Monday at 4 p.m. PST/7 p.m. EST on HLN to watch the exclusive interview with Angela Corey.
In the meantime, watch a clip of the Corey's interview below: