Exclusive
Elton John & David Furnish Sold L.A. Condo For Baby Zachary's Safety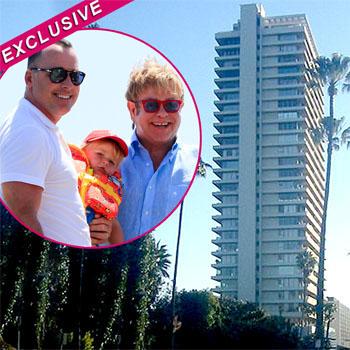 Article continues below advertisement
Elton, 65, and David, 49, remember the tragic incident that happened to their friend Eric Clapton, who lost a son to a horror 49-story fall in a Manhattan apartment building in 1991, and want to ensure a freak accident like that doesn't happen to Zachary.
"The reason behind Elton and David giving up their West Hollywood condos is because they thought it wasn't a suitable place for a toddler to grow up in," a source revealed.
"They did love the home, but now they are parents they have to think more sensibly and it wasn't ideal for Zachary.
"The apartment was situated halfway up the Sierra Towers complex, so it was dangerously high-up.
"Despite all the constant attention they give Zachary, Elton and David feared that the toddler could climb out of one of the apartment's many windows and fall.
"Zachary is very precious to them, and Elton remembered what happened to his close friend Eric Clapton who lost his son Conor in such a tragic way.
Article continues below advertisement
"They thought about installing window guards all throughout but Elton was terrified that one of them could malfunction or break, and he couldn't live with that on his conscience.
"As responsible parents, Elton and David did the right thing and moved to a more kid-friendly home where they will continue to dote on Zachary," the source said.
Elton and David sold their Sierra Towers condos, which were in Furnish's name, for $4.65 million earlier this month after putting the property on the market back in March.
Recently, the pair moved into a walled, gated, and vaguely boomerang shaped home in the Trousdale Estates in Beverly Hills, which was originally listed for $7.695 million.
Tara Durr And John Presser Show Off Their Bachelor Baby!
The Sierra Towers has become synonymous with celebrities – former residents include David Geffen, Sidney Poitier and Lindsay Lohan.
Cher and Joan Collins are current residents, and Courteney Cox recently purchased a two-bedroom, upper-floor unit at the 9255 Doheny Road tower.